The 5 Best Kohler Toilet Seats
Last Updated on May 19, 2022 by toilethaven
What is the best Kohler toilet seat?
Kohler has been manufacturing toilets and toilets seats for many years gaining the trust and goodwill of homeowners and businesses. As a matter of fact, Kohler toilets seats are among the best to buy.
Unfortunately, most toilets today are sold without a toilet seat. You therefore have to buy one separately. Apart from that, toilets seats don't last as long as toilets do.
People do replace their toilet seats way more times than they replace the toilets. Toilets rarely move and are made of porcelain while toilets seats are always in an up and down traffic which exposes them to a lot of strain.
Toilet seats are also made of plastic or wood, materials which are no match to the hard porcelain. Unless you own a soft close toilet seat, toilet seats slam on the bowl regularly which leads them to break and therefore requiring a replacement.
In this post, we have compiled a list of the best Kohler toilet seats and we guarantee you that if you indeed seek to purchase a Kohler toilet seat you wouldn't go wrong with any of these.
These are the best and top rated Kohler toilet seats:
1. Kohler K-8298-0 C3 155 Bidet Toilet Seat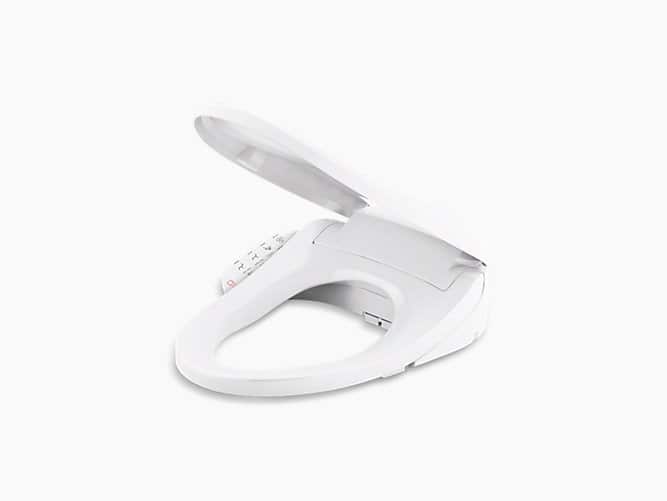 Bidets are not as popular in the United States as they are in Europe and Asia but they are quickly catching up and getting more accepted.
I tried explaining to my old man how a bidet toilet seats works but he quickly retorted "and how do you avoid walking away with wet pants"? So I explained even further much to the dislike of mom. Anyway my dad got it, and I will be buying one for his cave toilet on Father's Day.
The Kohler K-8298-0 C3 155 bidet toilet seat is more than just a toilet seat. It brings comfort and style to your bathroom.
What makes this a great seat?
It has stainless steel wand with fine nozzles where warm water is ejected from to cleanse your front and rear. The front cleansing is absolutely awesome for ladies. You can adjust the length of the wand in order to hit different parts effectively. The fact that the wand is made of stainless steel means it is easy to clean and keeps looking new for a long time.
The wand is also automatically sanitized by UV light in order to maintain top notch hygiene.
The temperature of the water coming from the wand can be adjusted, as well as its pressure. The warm water cleanses and massages you.
With this seat, toilet paper in your bathroom will become obsolete. As soon as you are thoroughly cleaned, warm air is blown over you which dries you completely. The drier has adjustable air speed and temperature to cater to different needs
Heated toilet seat. This Kohler bidet seat is also throughout heated by a hybrid heater with 5 temperature settings. I know we dread sitting on a cold seat especially during winter but with this seat you are even likely to sit there longer.
The quiet-closing seat and lid also provides a bit of privacy and convenience. You don't have to deal with the irritating seat slamming sound announcing to everyone that you are done using the toilet. You just go to the bathroom quietly and leave quietly.
LED nightlight. This is simple. The light illuminates the bowl. You don't need to lose sleep by turning on the bright lights. Just trace the blue light on the toilet and do your business. That's really cool if you ask me.
What not to like about it
The remote-operated seat model is unjustifiably expensive than this particular one. The problem with this is that the controls are on the side. You therefore need to turn to your side to know what button to press. With time though, you will know what button to press without needing to turn around.
It is expensive.
2. Kohler Cachet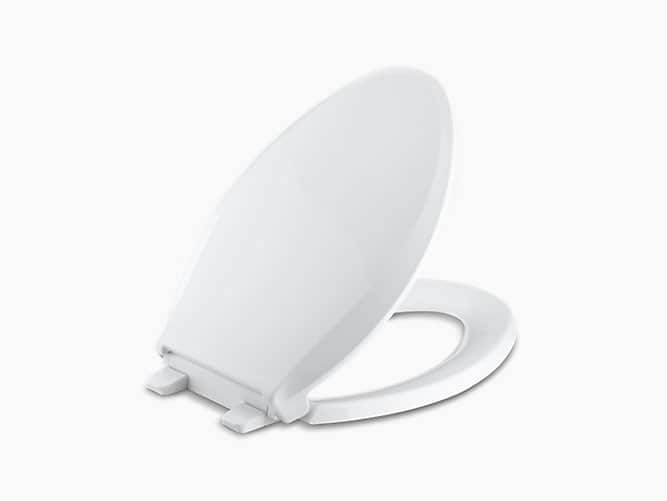 The Kohler Cachet is our opinion one of the best Kohler toilet seats. It is available for both elongated and round toilets. The colors to choose from are white, biscuit, gray, cashmere, dune, ice gray, sandbar and thunder gray.
What's good about it?
The Kohler Cachet is a soft close toilet seat. This means that after using the toilet you just need to give the seat and lid a slight tap and they will close slowly. For people who are really irritated by the sound of a seat slamming on a bowl then this is for you.
It has a quick-release hinge. This toilet seat is quick to remove and also quick to reinstall which makes cleaning it and the entire toilet so easy. It has 2 plastic covers at the back which you pop up and slide the seat out. To put it back you slide it back and put on the covers to lock it in place.
Very easy to install. Installing the Kohler Cachet is a cinch. Anybody can do it. The quick-attach hardware which comes with the seat helps you to install it in 5 minutes. You will only need a screwdriver.
The grip-tight bumpers underneath the seat grip tightly on the bowl preventing the seat from shifting sideways. This way it is able to prevent the seat hinges from being under stress helping the seat last long.
What's not good about it?
The Kohler Cachet has no top mount option. In order for you to install the seat, you need to bend and reach the underside of the bowl to tighten a wingnut. If you therefore own a skirted toilet with no access to the underside of the bowl you can't buy this seat.
Some people have complained about this seat moving sideways. One thing you should make sure to do is to pop the plastic covers at the back of the seat. Apart from being used for aesthetics, they hold the seat firmly in place.
3. Kohler Rutledge
The Kohler Rutledge is a solid elongated toilet seat that is really well designed. It is available in white, almond and biscuit.
Why is Kohler Rutledge a good toilet seat?
It is a soft close toilet seat. The soft/slow close toilet seat which is also known as a quiet-close seat is designed to defy gravity by closing slowly every time you get it a slight tap. If someone in your house habitually visits the bathroom at night and slams the seat hard on the bowl waking everyone, then this is the seat you need to install.
The quick-release and quick-attach hinge mechanism means you can remove and put back the seat in seconds when you want to give the toilet a thorough cleaning. We all know the germs which can hide in small crevices in the toilet seat and without this function it would be really hard to properly clean the toilet.
Very well done color. I'm sure you have seen poorly done seats which after a few months of use the color starts to peel off or easily stain and scratch. That is not something you will experience with seat. Kohler actually gives you a guarantee that the color work is solid and quality-tested.
The design of this toilet is something to love. It has a rugged feel that makes it look so cool. According to Kohler, the seat is traditionally designed to complement classic bathroom décor
What's not to like about it?
Just like the Kohler Cachet, the Kohler Rutledge is a bottom-mount toilet seat. You cannot therefore install it in a toilet with no access to the bowl's underside.
If you don't install the Kohler Rutledge or any of the Kohler quick-release toilets properly, you will notice a gap between the seat and the bowl. To fix that, remove the quick release hinge covers and loosen the bolts. Align the seat properly then tighten it. Put the hinge covers backs on.
4. Kohler PureWarmth Heated Toilet Seat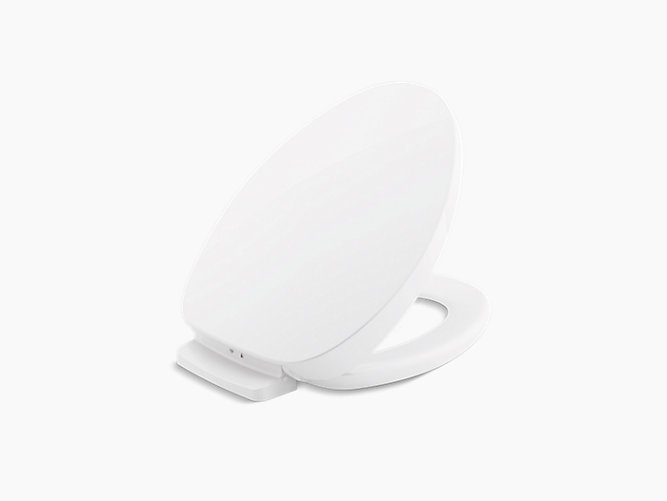 The Kohler PureWarmth is one of the best heated Kohler toilet seats. It is an amazing seat that is available for round and elongated toilet bowls in white and biscuit.
Kohler PureWarmth best features
Heated toilet seat. Can you imagine what it is like to sit on a cold toilet seat on a cold morning during winter? Now imagine sitting on a heated seat on a cold morning in the same winter? Yes. That is the transformation this seat brings to your life. It has 3 temperature settings: low, medium and high to help you set the temperature you are most comfortable using throughout the day.
LED nightlight. Sometimes when you wake up in the middle of the night with the urge to use the bathroom, you don't want to turn on the bright lights lest you lose your sleep or wake your partner. The PureWarmth nightlight feature takes care of this problem for you. It illuminates the toilet with a choice of 2 colors which makes your trip to the bathroom so convenient. Nightlight is on whether the seat is opened or closed. The blue color is really cool.
This seat is compatible with the PureWarmth app. With the app, you can easily adjust the seat temperature and brightness levels.
Slow close toilet seat. Again with this seat, you don't have to worry about anyone in the house slamming the seat on the bowl. You will only need to push it a little and it will close slowly.
Quick-release mechanism allows the seat to be quickly unlatched to help you with the cleaning. It is also as easy to put it back as it is to remove it. Not tools needed.
What not to like about the Kohler PureWarmth
In order for this seat's nightlight and heating to work it will need an electrical outlet. If the cord that comes with the seat cannot reach the closest power outlet you will need to install one. This means more cash used.
This seat is expensive compared to other ordinary Kohler toilet seats. This is primarily due to the luxurious features it comes with and as we know, comfort costs money.
5. Kohler Brevia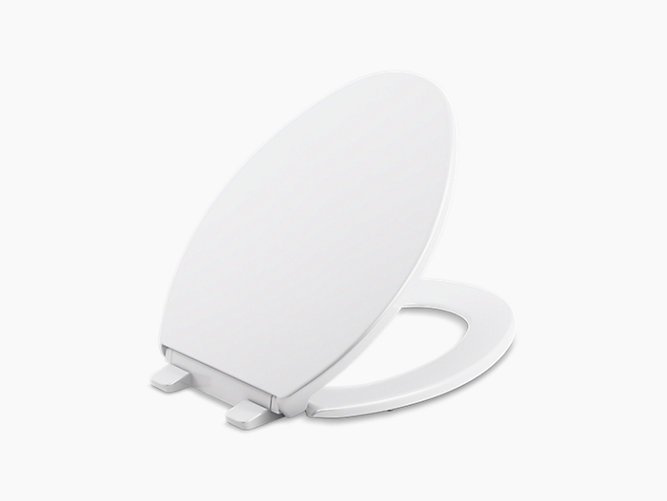 If you are looking for a simple yet decent Kohler toilet seat then this would be it. It does not have the advanced features like quiet-close, nightlight, heating etc. but it will do the job. Its price is great too.
It is available for round and elongated toilet bowls. The colors available are white, almond, biscuit and sandbar.
Why should you buy the Kohler Brevia?
Quick-release hinges. If you don't compromise on hygiene then this is a great win. You will able to remove this seat in a few seconds, clean the entire bowl, clean every inch of the seat and reinstall it back just as fast. With on ordinary toilet seat this would be impossible.
Quick-attach hardware. The quick attach hardware makes it so easy to install this seat. Just slide the toilet seat bolt in the bowl mounting hole and tighten the wingnuts on the bolts. After that you will only slide the seat on the mounting and pop in the plastic covers. Easy-peasy!
The toilet seat is made of solid plastic which is stain-resistant, will not chip or fade. It also has non-slip bumpers which hold it firmly on the bowl preventing shifting sideways.
What you might not like.
It has no slow close feature. Every time you want to put the toilet seat down you will need to gently bring it down yourself lest it will slam hard on the bowl.
Some people often have a problem with the toilet seat mounting hardware. The thing is that the bolt is metal but the wingnut is plastic. If you tighten the wingnut too much the threads will be stripped off and you will end up with a wobbly toilet seat. You therefore want to be gentle with the mountings as much as possible.
Kohler Toilet Seats Buying Guide
What would influence you to buy one Kohler toilet seat over the other? What should you look in a toilet seat? What are the factors to consider? The following factors should guide you in buying the best Kohler seat for your toilet.
1. Comfort
Comfort is a big factor to consider prior to settling down on a certain seat. You will want to buy a seat that perfectly fits on your bowl and is designed to nicely accommodate and assume your body shape.
2. Shape of your toilet bowl
You toilet bowl will either be elongated or round. Elongated toilet bowls are oval-shaped and longer while round toilet bowls are circular with a shorter length compared to elongated bowls.
Elongated toilets are generally more comfortable than round toilets but take up more space in the bathroom.
If you have an elongated toilet you should buy an elongated toilet seat and the same for round toilets.
3. Material
Toilet seats are made of either plastic or wood. Each of the 2 materials have their pros and cons. All of the Kohler toilet seats that we have reviewed in this post are plastic. We did not have a wooden toilet seat that we felt could fit in the list of the 5 best Kohler seats.
If you however feel like you can really do with a wooden toilet seat, check out the Kohler Stonewood toilet seat.
4. Heated toilet seat
Heated toilet seats are a life saver if you live in cold areas or if you just love that extra comfort. Going to the bathroom really doesn't have to be a punishment if you hate sitting on cold surfaces.
Although heated Kohler toilet seats cost a little more than the non-heated ones, the price is justified for the extra comfort that you receive.
5. Slow close toilet seat
You are sipping your coffee while reading that engaging book and bam! Comes the sound that indicates one of your family member has just finished using the toilet. It can really be infuriating if there are many of you in the house. Or if you have guests around.
You need to get yourself one of these Kohler soft close toilet seats. They are designed to give you piece of mind.
6. Bidet toilet seat
Bidet toilet seats have entered the United States market late compared to other parts of the world but everyone now is talking about them; including my old man!
I do not wish to bother you with the details but reports indicate that toilet paper does not get rid of everything. Bidets on the other hand are very thorough.
The cost of bidet toilet seats is high compared to ordinary toilet seats but for what they do it is not difficult to understand the cost. If you are able to afford a bidet toilet seat then by all means go it.
7. Nightlight toilet seats
Nightlight toilet seats were designed to make sure that if you wake in the dead of the night to empty your bowels, you do not need to turn on the lights, lose your sleep and your partner's.
You simply head to the bathroom where the toilet bowl will be illuminated, do your business and hope back to bed. The Kohler nightlight toilet seats can be adjusted to increase or reduce the brightness to your liking.
8. Cost
Toilet seats can either be very cheap or really expensive. And the reality is that all of us do not have the same buying power. There is always something for everyone.
The idea here is to buy what you can comfortably afford and one which you are sure will serve you well.
In the list of the 5 best Kohler toilet seats we have mixed up the pieces to make sure everyone is well accommodated.
9. Color
Most people have white toilets and as a result will most likely buy a white toilet seat. The thing about white is that it is easy to spot any dirt and hence you clean it frequently making sure your seat and toilet are germ-free.
Having said that, Kohler has some of the the best black toilets and if you are looking for a matching seat you should definitely go for a black one.
It is however not always that people buy a toilet seat matching the toilet color. I have seen plenty of times a black toilet seat on a white toilet and they always look great.
10. Quick-Release toilet seat
Quick-release toilet seats are designed to make it easy for you to remove and reinstall them while cleaning the toilet. Without this feature it would be impossible to clean the area where the seat is mounted on the bowl, which leaves a really dirty patch where germs can thrive.
If you therefore want to simplify you work while cleaning your toilet, installing a Kohler quick-release toilet seat does not look like a bad idea.
How to Measure for a Toilet Seat
As you probably know by now, toilet bowls and toilet seats in extension are not the same size. You will either have an elongated toilet needing an elongated seat or a round toilet requiring a round seat.
So before buying a toilet seat you will need to measure your toilet bowl. A toilet seat has 3 important measurements: the length, the width and the bolt spread.
The length is the most important measurement. The widths of both elongated and round toilet seats are almost equal. The bolt spread in the United States is standard at 5.5 inches. This is the distance between the 2 bolt mounting holes on the bowl.
The length of the toilet seat is obtained by measuring the bowl length. Take a measuring tape and measure the distance between the center of the 2 bolts and the front of the bowl.
For elongated toilets, the length is 18.5 inches while in round toilets the length is 16.5 inches. If you are good in approximations, you don't even need to measure. If the toilet is oval buy an elongated seat. If it is has a semicircle at the front buy a round toilet seat.
How to Install a Kohler Toilet seat
Installing a Kohler toilet is something that you should do without the need to call a plumber. Seriously! It is so easy. If you have kids you should actually do it with them so that they are comfortable fixing things around the house from a young age.
Before installing the new toilet seat, you should first remove the old seat. This is an informative post on how to remove a toilet seat. After removing the old seat, follow this video from Kohler on how to install a toilet seat.
FAQs
Are Kohler toilet seats interchangeable?
You cannot interchange a Kohler elongated seat with a Kohler round seat. But you can interchange elongated and elongated seats, and round and round seats. Some old Kohler toilet models are however differently designed and will need special seats specifically made for them.
2. How do I know what model my Kohler toilet is?
Remove the toilet tank lid and check on the wall inside the tank. The toilet model number will either be stamped or molded on the porcelain.
3. What is the price of Kohler toilet seats?
The price of Kohler toilet seats starts from as low as 15 dollars and go up to hundreds of dollars depending on the design and its features.
.
---