The 7 Best Wooden Toilet Seats
Last Updated on May 18, 2022 by toilethaven
Wooden toilet seats are way more stylish than plastic toilet seats. This is a debate I have had multiple times with my friends who have never even thought of buying a wooden seat.
The decision to buy either a plastic or wooden toilet seats comes down to each person's personal preference. If you a looking to buy yourself a nice wooden toilet seat then you are in the right place.
In this post I will review 7 of my best wooden toilet seats and I really hope you get what you are looking for. In doing so, I will consider quality, price, ease of installation, comfort, attractiveness, reputation of the manufacturer among other factors.
There are two types of wooden toilet seats. There is the solid wooden seats and the molded/enameled wooden toilets seats. Enameled wooden seats consists of thin strands of wood pressed together then varnished off. They are therefore lightweight and also waterproof.
Solid wooden toilet seats as the names suggests are made of solid hard wood like mahogany, oak or even bamboo. They are also varnished to give them a glossy finish. These type of seats are a bit more expensive than enameled wood toilet seats.
I will be sure to inform you the type of material used to make each toilet seat that I am going to review. Without anymore stories let us jump straight into the reviews.
The Best Wooden Toilet Seats are:
| Toilet Seat | Type of Wood |
| --- | --- |
| 1. Sanilo Wooden Toilet Seats | Molded wood |
| 2. TopSeat Native Impression | Natural bamboo |
| 3. Design House Honey Oak Finish | Solid oak |
| 4. Mayfair Natural Oak Veneer | Oak Veneer |
| 5. Bemis 1500TTT 000 | Molded wood |
| 6. Mayfair 1843SLOW 000 | Molded wood |
| 7. Comfort Seats Mahogany Finish | Molded wood |
1. Sanilo Wooden Toilet Seats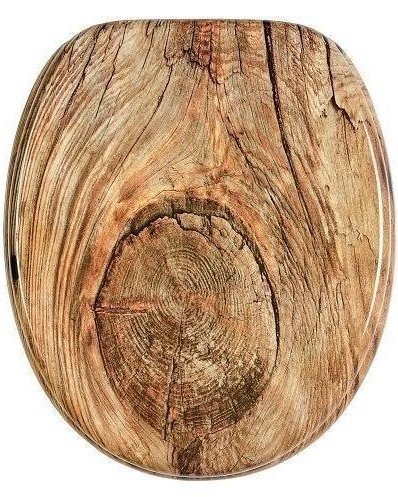 Whatever your style is you will get a toilet seat from Sanilo. The wooden toilet seats come in 40 different styles for both elongated and round toilets. They are made of molded wood.
Now, if you are used to using a wiggling toilet seat then this one will be a game changer. It has strong high-quality hinges which makes the seat to be really sturdy. And in case you are worried about being too heavy, this seat can comfortably support up to 440 pounds.
Another amazing feature that you will love about this seat is the slow-close feature. If you, just like myself are disgusted and irritated by the sound of a seat slamming on the bowl then this is the seat for you. Both the seat and lid are slow/quiet close. You just give them a slight push and they close slowly without a sound.
You can install this seat fairly quick or it might take you longer depending on whether you are going to read the accompanying instructions. These seats are installed a bit different from other seats so that you are able to adjust them according to your bowl size. Take your time to read the easy-to-follow instructions and you should have no problems.
If you would like a colorful or even a rustic wooden toilet seat then you need to check out the Sanilo toilet seats and select your favorite one. They are comfortable too.
2. TopSeat Native Impression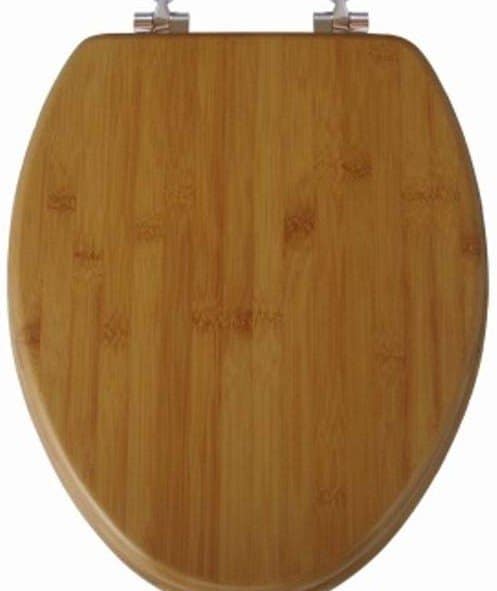 If you are looking for a well-made bamboo toilet seat then this should be it. These seats are beautifully designed and of high quality. They are available for both round and elongated toilets.
I should also mention that this is real bamboo and not MDF coated with something which looks like bamboo. It is therefore very solid and will comfortably support just about anyone despite their weight.
The bamboo pieces are carefully put together to show the excellent finish. Given what TopSeat are selling this seat for, it is really value for money. The color of the seat varies from medium to dark.
One thing about this toilet seat and many of the other toilet seat is that the hinges are not made of solid metal. In this one specifically, the description says that it has brushed nickel hinges but what they don't say is that they are made of plastic and only coated with the nickel.
Apart from that this seat is a really nice one both in comfort and appearance. It comes with a 3-year warranty.
3. Design House Honey Oak Finish
If you want to spruce things up and give your toilet/bathroom a more traditional look then this is the seat to buy. It is made of solid oak wood which so smooth but solid.
One interesting thing is that you can buy this seat and other bathroom accessories to match it. These are the accessories it comes with:
Towel bar – The total length of the towel bar is 32 inches but the size of where you actually hang the towel is 28 inches. Its height is only 5 inches.
Double robe hook – This is ideal for small or big robes.
Paper towel holder – This one measures 13.75 inches in length, 4.6 inch depth and 3.5 inch in height.
Toilet paper holder – The total length of the holder is 8.25 inches, 3.625 inches depth and 5 inches in height. The space where you hang the toilet paper is 4.25 inches long.
Towel ring – This is a really thick and nicely done towel ring that is good for both small and big towels.
Triple robe hook – In case you need to hook 3 small or big robes this is perfect choice.
It is important I mention that you don't have to buy all the items at a time. You can buy one item and leave the others. All of these products are made of the same material as the toilet seat. For anybody interested in a really rustic design check out this seat.
4. Mayfair Natural Oak Veneer
Mayfair toilet seats including this one are manufactured by Bemis, which is the largest toilet seat manufacturer in the United States. You can therefore "sit pretty" since this guys are very reputable.
These seats are available for both elongated and round toilet seats and you can choose between the natural oak and walnut colors. The classic chrome hinges gives a good contrast between the seat and the toilet. Be however advised that the hinges are not solid chrome but rather plastic coated in chrome. They hold up pretty decently though.
If you don't like an overly shinny seat, this will work well for you. The dark color option is especially great and will not reflect light even when you put on the lights.
If you have owned a wooden toilet seat before you already know that they render differently when exposed to different intensities of light, so yours will look different from the next person's depending on the bathroom lighting.
This seat like other wooden seats I have written about here is quite comfortable so if you are big on comfort that is another plus. It comes with a one-year warranty,
5. Bemis 1500TTT 000 Wooden Toilet Seat
If you are looking for a wooden toilet seat to match the color of your toilet or even to contrast it with another color then this is a decent seat to buy. It is available for both round and elongated toilets in white, silver, linen, Dresden blue, Venetian pink, ice grey, cotton white, Silverado, almond, fawn beige and biscuit.
Installing this seat is a cinch. It uses Bemis' Sta-Tite Fastening system that makes sure that the seat will never wiggle at all. This installation also has a fail-safe system that alerts you when the mounting bolts are sufficiently tightened by snapping off at the bottom.
Unlike those seats which appear to be too short, longer or even offset, this seat has an adjustability which allows for a perfect fit so that it is even with the toilet rim. The mounting hardware is made for non-corrosive material hence will not corrode and weaken with time.
The Bemis 1500TTT 000 is a budget-friendly seat so if you are not willing to spend too much on a seat then this one might be what you need. It comes with a one-year warranty.
6. Mayfair 1843SLOW 000 Wooden Toilet Seat
This is a soft close enameled wood toilet seat which is available for both round and elongated toilets and comes in white. It fits in majority of toilet brands including Kohler, Toto and American Standard.
Since Mayfair, is part of Bemis manufacturing company, most of the features present in the Bemis wooden toilet seat are also available in this seat. The most important is the Sta-Tite toilet seat installation system.
Most people struggle with and are irritated by constantly wiggling toilet seats. The Sta-Tite system is used to specifically deal with this issue. This seats comes with an easy-to-follow guide on how to install it on your own.
Soft close toilet seats means you or other members of your home can go about their business in the bathroom without slamming the seat on the bowl. That sound is annoying to both the toilet user and those outside the bathroom.
This solid is both comfortable and solid. No matter your weight you can rest assured that it is going to comfortably take it. It is made of quality enameled wood with a superior high-gloss finish that resists chipping and scratching. A one-year warranty is offered after your purchase this seat.
7. Comfort Seats Mahogany Finish
This is the most expensive seat in this list but the reason I have placed it last has nothing to do with its price. I feel like this seat has the potential to be the best wooden toilet seat ever but the manufacturer is doing it some injustice.
Why do I like though? The seat is made of solid molded wood and it is the most beautiful wooden seat you can ever see. It just oozes opulence when you see and that's why I'm a little disappointed.
For a seat as good as this one, you expect the manufacturer to come up with high quality hinges to match the quality of the seat. Wooden toilet seats are heavier than plastic ones and the manufacturer should have taken the time to make stronger hinges to support their weight.
If you are a handy man or woman and really likes this seat then you can get a way to make it work. I really like its finish and I believe the actual seat would last really long. It has a one-year warranty.
Plastic vs Wooden Toilet Seats
I often have people asking me, "Between a plastic and wooden toilet seat, which is better"? The answer is however not always straightforward.
In my opinion, neither plastic nor wooden toilet seats are better than the other. Each has its own advantages and disadvantages. It all comes down to each person's own preference.
Let us look at some of the pros and cons of wooden toilet seats so that you can make a more informed choice. The advantages of wooden toilet seats are:
They look stylish – The color of wood is one of the richest colors you can have. It adds a bit of "nature" to your bathroom and a really beautiful overall finish.
They are comfortable – Wooden toilet seats are really comfortable. Although plastic seats can also be made to be comfortable, I find that wooden seats to be overall more comfortable.
They are warmer – Although wooden toilet seats cannot be compared to heated toilet seats, they retain more heat than ordinary plastic toilet seats. They are therefore not as cold as plastic seats.
Have more weight tolerance – Wooden toilet seats can support more weight than plastic toilet seat. You are therefore guaranteed that it will accommodate you no matter your weight.
On the other hand, these are the disadvantages of wooden toilet seats:
They are expensive – Wooden toilet seats are more expensive than plastic toilet seats. This is for the single reason that wood is more expensive than plastic material. It is however not always the case especially when you are talking of plastic seats with features such as nightlight, heated or bidet.
They break easily – Wooden toilet seats are heavier than plastic seats. If you slam a wooden toilet seat on the bowl it has a higher chance of breaking than a plastic seat. This is the reason why most wooden toilet seats hinges snap easily.
If you would like to read more on the pros and cons of wooden vs plastic toilet seats check out this post.
How to Buy the Best Wooden Toilet Seat
There are a few factors that you need to put in consideration upfront before buying that wooden seat you are thinking of. Here are some of them:
1. Toilet Bowl Shape
In the United States, toilets have a round or elongated bowl. In other countries mostly in Europe you will find toilets with other shapes like square or D-shaped. It is very important that you determine what your toilet bowl shape is before proceeding to buy a seat.
Round toilet bowls as their name suggests are circular in shape while elongated toilets are ova-shaped. The length of an elongated toilet is on average 18.5 inches while that of a round toilet is 16.5 inches.
You can tell the difference between a round bowl and an elongated one by just looking at them. If you are not sure, just go ahead and measure. Take a measuring tape and measure the distance between the 2 seat mounting holes and the front most part of the bowl rim. For more information of that check out this post.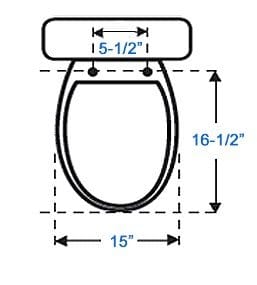 2. Ease of Installation
The ease of installation goes hand in hand with the quality of the mounting hardware. It is easy for a company to say that they have chrome, nickel or brass hinges and only to find out later that they are actually plastic but simply coated.
I have written a really informative post on how to install a toilet seat and how to remove a toilet seat. To learn how to remove and replace a toilet seat, read this post.
3. Color/Finish
Of course it matter s how a toilet seat looks. Whether you decide to go with a solid wood or a molded wood seat, take your toilet to check the quality of the finish or the preferred color. With a molded wood toilet seat you may opt to pick a matching color to that of your toilet or another color altogether which will contrast your toilet.
Conclusion
I feel like it's a lot harder to pick a wooden toilet seat than a plastic seat. Wooden toilet seats are susceptible to many problems that are not present in plastic seats. I am however confident that you will get a great toilet from the seats I have reviewed in this post.
---