How Do Saniflo Toilets Work? + Pros & Cons | Best to Buy?
Last Updated on September 5, 2023 by toilethaven
Are Saniflo Toilets Any Good?
It is not always easy to find a toilet that you can install several feet below the sewer line or even more feet farther from the sewer line. That is where Saniflo toilets come in. You can install a Saniflo toilet below grade or a couple of feet from a soil stack, and that is what makes them special.
Saniflo toilets are so many toilet types in one. They combine different types of toilets into one. These are:
Rear Discharge Toilets: Rear discharge toilets, which are also known as rear outlet or back outlet toilets, are toilets that discharge their waste from the rear as opposed to the bottom, like regular toilets.
Upflush toilets: Upflush toilets are toilets that pump their waste up against gravity as opposed to the traditional gravity flush toilets.
Macerating toilets: Macerating toilets are toilets with a unit at the back (macerator) that grinds the waste into a slurry using fast-rotating blades before it is pumped out.
Although most people primarily install Saniflo toilets as basement toilets, they are not exclusively made to be installed in basement bathrooms. If you decide to install a bathroom or just a toilet in a room without a drainage system and do not wish to rip the floor apart, a Saniflo toilet comes in handy.
Although they are floor-mounted, Saniflo toilets don't require you to install a drainpipe through the floor, which can be really expensive. You will only need to make a small opening through the wall, where the waste pipe will exit through.
So, how does a Saniflo toilet work? Let us look at the components of a Saniflo toilet and how it works differently from regular gravity flush toilets or even other pressure-assisted toilets.
How a Saniflo Toilet Works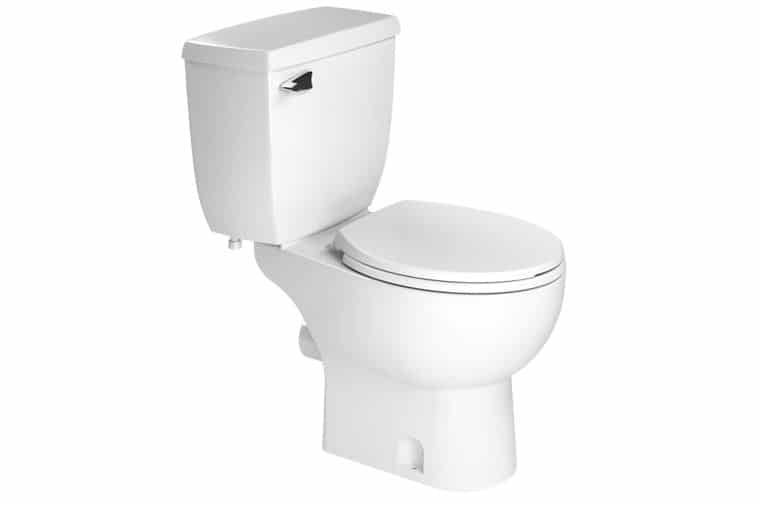 A Saniflo toilet comes with several components that are installed together to make it a complete system. These components include:
The toilet: You can choose to have an elongated or a round toilet. Elongated toilets have bigger bowls than round toilets and hence are more comfortable, while round toilets are more space-efficient.
The macerator: This is where the human waste, toilet paper, and water are mixed and grinded into a slurry before being pumped out. The macerating unit contains a pressure chamber, motor, blades, and a pump.
Extension pipe: This is optional. If you would like to have the macerating unit installed on the wall behind the toilet, the extension pipes link the toilet and the unit. It is sold separately.
I should, however, mention that the Saniflo Sanicompact self-contained toilet works a little differently, as we are going to see later. Other than that, this is how a Saniflo toilet works:
When you flush the toilet, the waste leaves the bowl and enters the macerator.
The waste mixture activates a micro switch in the pressure chamber, which in return triggers the motor to start running.
The blades, which are connected to the motor and now rotating at about 3600 revolutions per minute, grind the waste into a slurry.
The rotation creates a centrifugal force which pushes the slurry into a container below the motor.
From the container, the slurry is picked up by the pump and pumped away.
When the slurry level in the container reduces, the micro switch deactivates the unit until the next flush.
And basically, that is how Saniflo toilets work. These toilets are dependent on electricity to run the macerator, so you need to have a reliable power supply. Due to the running motor and the pumping action, Saniflo toilets are louder than gravity flush toilets.
Pros and Cons of Saniflo Toilets
Saniflo toilets have many advantages, but just like many things in life, they also have some disadvantages. We will, therefore, look at both the pros and cons of Saniflo toilets so that you can decide whether they are the toilets for you or not.
The following are the advantages of Saniflo toilets:
1. Best for basement bathrooms
While looking to install a basement toilet, you want to be sure that the toilet has a powerful and reliable pump to pump the waste upwards to the sewer line or septic tank. Saniflo toilets are, in my opinion, the best basement toilet options in the market.
Their pumping system is powerful enough that you will hardly ever have any clogs. Having said that, I should also add that the issue of toilet clogging, whether by Saniflo toilets or any other toilet, largely depends on the user.
Do not flush items that are not supposed to be flushed. In short, restrict yourself to only toilet paper and human waste. Do not use too much toilet paper, as they can also cause the toilet to clog.
2. Extra bathroom fixtures
Another great thing with Saniflo toilets is that they allow you to install a complete bathroom without tearing the floor apart. A toilet is not the only thing that is installed in a bathroom. You need other fixtures like a sink, shower, or bathtub.
Apart from the main waste inlet from the toilet, the Saniflo macerators have 2 other grey water inlets on the sides. You can, therefore, connect a sink, shower, or bathtub water outlet to the pumping unit. The waste is pumped out as soon as it enters the unit.
If you need to add a shower or bathtub to a Saniflo toilet pumping system, Saniflo recommends that you first install a raised platform/base so that the grey water can flow naturally to the unit.
The raised platform should be at least 6 inches high to allow the installation of a P-trap and also allow the prerequisite ¼ inch per foot gravity flow towards the pump.
3. They can be installed anywhere
With gravity flush toilets, you must install them in a specific place in the bathroom where the drainpipe has already been pre-installed.
Saniflo toilets do not need a floor drainage system and can, therefore, be installed anywhere. You can, as a matter of fact, turn any room into a bathroom without having to dig up the floor to install a drainage system.
These toilets can, therefore, save you a lot of money, considering how much it costs it costs to remodel a bathroom. You also do not need to call in a plumber, as Saniflo toilet installation can easily be DIYed.
4. They are water-efficient
There is not a single Saniflo toilet that uses more than 1.28 gallons of water per flush. 1.28 gallons might not look like much compared to 1.6 gallons or even 3 gallons, but over a period of one year, you will be surprised that you have saved thousands of gallons of water and as much in water bills.
Due to their low consumption, they are certified by the EPA's WaterSense as well as the California Energy Commission (CEC). Saniflo toilets can, therefore, be sold without restrictions in states with strict water laws like California and Texas.
5. Perfect for small bathrooms
Saniflo Sanicompact self-contained toilet is one of the smallest/compact toilets in the industry. Despite its small size, it is one of the most popular upflush toilets due to its great performance as well as stylish look.
Due to its compact size, you can install it in a very small bathroom. Its tankless self-contained design combined with an elongated bowl makes it both space-efficient and comfortable to use.
Saniflo Toilets Cons
So, what are some of the things that might discourage you from installing a Saniflo toilet? The following 3 factors are what I would consider the disadvantages of a Saniflo toilet.
1. They are noisy.
With a gravity flush toilet, the only noise you hear is the gurgling sound as the waste exits the bowl and perhaps the toilet tank refills. Not too much of a concern.
Saniflo toilets use a pump with a motor and fast-rotating blades. They are, therefore, way noisier than gravity-flush toilets. If you think the noise might be too much of a bother for you, then perhaps Saniflo toilets are not the toilets for you.
I should however inform you that all upflush toilets are noisy. There is no way of getting waste to move upwards without a pump. And pumps make noise. Perhaps what you should consider is the level of noise.
2. They are pricey.
As you would expect, Saniflo toilets are more expensive than ordinary gravity flush toilets. Although there are some gravity flush toilets that are more expensive than Saniflo toilets, the majority are cheaper than them.
You must, however, appreciate the fact that Saniflo is not only selling you the toilet but the macerating unit too. In essence, you are paying for 2 products. When you consider the convenience they offer, I think they are fairly priced.
3. They are electricity-dependent
Unlike gravity flush toilets, which solely depend on the ever-present gravity, Saniflo toilets will definitely need power in order to run the macerator. Power is not ever-present like gravity, and it also costs money.
If you are going to install a Saniflo toilet, it is important to make sure that you have access to an uninterrupted power supply.
People who live in areas prone to power outages may not enjoy the full benefits of a Saniflo toilet as much as they would like.
The 5 Best Saniflo Toilets
1. Saniflo SaniAccess 3
Saniflo SaniAccess 3 is a single-flush, two-piece toilet with an option to choose between a round or an elongated bowl. It has the most powerful macerator compared to any other macerating/upflush toilet in the industry.
To just illustrate how powerful this unit is, it comes with a 3.5 HP pump system. It is, therefore, going to pump up the waste with more force, reducing the likelihood of any clogs or backflow.
With a SaniAccess 3, you can comfortably install a bathroom 15 feet below a sewer line or 150 feet away from a soil stack. It is an improvement of the Saniflo SaniAccess 2, which has a ½ HP pumping system. You can only install one other fixture (sink) while using SaniAccess 2; hence, it is limited in that area.
The dimensions of the Saniflo SaniAccess 3 elongated toilet are 28.5 inches in depth, 17.25 inches in width, and a height of 31 inches. Its round model has a depth of 26.5 inches, while its width and height are similar to those of the elongated model.
The Pump's dimensions are 6.75 inches in depth, 18.75 inches in width, and 10.75 inches in height. Its top of the toilet seat height is 16.75 inches, which is only 0.25 inches shy of the ADA recommended for comfort height toilets.
If you live in areas with relatively high humidity, you must be familiar with the concept referred to as "toilet sweating" or toilet tank condensation. This toilet's tank is insulated to prevent it from "sweating".
Each time you flush this toilet, it uses 1.28 gallons per flush only. I would therefore consider it to be very water-efficient.
The only main disadvantage of the Saniflo SaniAccess 3 is that it is quite pricey. Being the latest and best toilet by Saniflo, it is not difficult to see why this is the case.
2. Saniflo Sanicompact 023 Self-Contained Toilet
The Saniflo Sanicompact self-contained toilet is a dual flush one-piece elongated and comfort-height toilet. It is the most compact upflush/macerating toilet, which makes it one of the best toilets for people with small bathrooms.
Saniflo 023 Sanicompact has several distinct features different from other Saniflo toilets. The first is that it does not have a tank. Such are called tankless toilets. So, how does a tankless toilet work?
Water under high pressure from the supply line is delivered directly to the toilet bowl. When you push the flush button, a metered amount of water sufficient to flush the toilet is released into the bowl. The pressurized water flushes the bowl the same way water from a tank does, if not better.
Depending on the waste you are flushing, Saniflo Sanicompact uses only 1 or 1.28 gallons of water per flush. While flushing liquids, it will consume only 1 gallon and 1.28 gallons to flush solids.
Another notable difference is that, unlike other Saniflo toilets, which have separate toilets and pumps, the Sanicompact only comes in one piece, with an inbuilt pump. This is one of the reasons which makes it a great option for small spaces.
If you need to install it in a basement, the Saniflo Sanicompact is able to pump waste at a vertical distance of 9 feet and a horizontal distance of 120 feet. Unfortunately, the only other fixture that you can install with this toilet is a sink. Again, it is perfect for small bathrooms.
To appreciate how compact this toilet is, it has a depth of 19.5 inches, a width of 14.25 inches, and a height of 18.25 inches. Its seat height is about 18 inches, which is very comfortable to sit and stand, especially for tall people and seniors.
It also comes with a soft close toilet seat, which helps in preventing the seat from slamming hard on the bowl. It's a very irritating sound, by the way!
The Saniflo 023 Sanicompact toilet is a beautiful, practical, and competitively-priced toilet. Its smooth surface, devoid of nooks and crannies, makes it so easy to clean.
3. Saniflo Sanibest Pro
The Saniflo Sanibest Pro is another fantastic toilet by Saniflo. It is a single flush two-piece toilet with a round and elongated model that can also be used to install a full bathroom.
Its 1 HP pumping unit incorporates a grinder that is ideal for uncontrolled development, whether residential or commercial. Of all the Saniflo toilets, the Saniflo Sanibest Pro has the highest vertical pumping distance of 25 feet. It can also be installed in a bathroom 150 feet away from a sewer line.
Although other types of waste apart from human waste and toilet paper are highly discouraged from being flushed down/up an upflush toilet, the Sanibest Pro is able to handle sanitary waste. Sanitary waste products like condoms, dental floss, and sanitary napkins can be flushed up this toilet, although you shouldn't make it habitual.
It offers a bit of flexibility during installation because the discharge elbow can be rotated at a 360-degree angle. This means the waste can be ejected from any direction you so wish, especially if the pumping unit is in a tight space.
In case you have a problem with the unit, fixing it is easy as you do not need to disassemble it to figure out what is wrong. Its easy-to-remove panel makes it quick for you to access the internal components of the unit for diagnosis.
To prevent backflow to the unit, the pipe assembly comes preinstalled with a non-return valve. This prevents damage to the unit, and in case of a clog, it is always easy and inexpensive to know where to look and fix.
Just like any other Saniflo toilet, you can choose to install its pumping unit directly behind the toilet or behind the toilet's rear wall. If you decide to have it on the wall behind the toilet, do not forget to buy the connector pipe.
Saniflo Sanibest Pro's dimensions are a depth of 27.75 inches depth, a width of 14.25 inches, and a height of 31 inches. The toilet seat height is 16.75 inches, while its water consumption is 1.28 gallons per flush.
The pumping unit's dimensions are 8 inches in depth, 20.31 inches in width, and a height of 10.5 inches.
Other than for its loud noise as it flushes, the Saniflo Sanibest is a great toilet, and you should definitely consider it.
4. Saniflo SaniPLUS
Saniflo SaniPLUS is a single flush two-piece toilet that also has a round and elongated model. It is one of the most popular toilets in Saniflo.
The SaniPLUS also gives you an opportunity to install a full bathroom, be it in the basement or away from the sewer line. Apart from the toilet, you can also connect a sink, shower, or bathtub to the pumping unit.
It features a ½ HP pumping unit, which might look unimpressive compared to others like the Saniflo SaniAccess 3, but it works amazingly well. With this toilet, you can install a bathroom 15 feet below the sewer line or 150 feet away from a soil stack.
As I told you, Saniflo toilets tend to be noisy during flushing. This toilet is, however, the least noisy of them all. This is due to the fact that it contains vibration absorbers that reduce the noise from the pump by 10 dB.
Saniflo SaniPLUS's toilet dimensions are 28.75 inches in width for the elongated toilet, 27 inches in width for the round toilet, 17.75 inches in width, and 31 inches in height for both models. It has a seat height of 16.75 inches.
Just like all the other two-piece Saniflo toilets, this one also uses 1.28 gallons of water per flush. It is, therefore, WaterSense compliant and also approved by the California Energy Commission (CEC). Its toilet tank is insulated to prevent toilet tank sweating/condensation.
The pumping unit's dimensions are 7 inches in depth, 20 inches in width, and 10.625 inches in height. Again, you can choose to install it directly behind the toilet or behind the toilet wall. The extension pipe is 18 inches long.
5. Saniflo Sanipack
Saniflo also makes a couple of wall-hung/wall-mounted upflush toilets. The Saniflo Sanipack upflush wall-hung toilet is the best of them all since it gives you an opportunity to install a full bathroom.
The other decent choice is the Saniflo Sanistar wall-hung toilet, but it will only allow you to add a sink. If you, however, need a wall-hung Saniflo upflush toilet for a small bathroom, then it is a perfect choice.
A wall-hung/mounted toilet is a toilet that is mounted on the bathroom wall, supported by a frame called a carrier. The carrier and toilet tank are concealed in the bathroom wall, and therefore, the only visible thing is the bowl. Wall-mounted toilets are so stylish and modern.
In the case of the Saniflo Sanipack, the macerating/pumping unit, as well as the plumbing pipes, are also concealed. This involves the erection of a secondary wall where the carrier, pump, and all the pipes are hidden.
This toilet is designed for residential applications where it can be used to install a full bathroom 15 feet below the sewer line and up to 150 feet away from a soil stack. Unlike other Saniflo toilets, which have an operating cycle of 10-12 seconds, the Sanipack's operating cycle is 7-9 seconds and therefore has lower energy consumption.
Although wall-hung toilets are not necessarily more expensive than floor-mounted toilets, their installation tends to be very expensive. Unlike floor-mounted toilets, where you can install the toilet on your own, a wall-hung toilet will need a professional to install.
Apart from that, you will also need to buy the carrier, whose price is separate from that of the toilet. Erection of the secondary bathroom wall to conceal the carrier, tank, and pump is also another expense.
The Saniflo Sanipack macerating unit's dimensions are 5.75 inches in depth, 15.75 inches in width, and a height of 11.625 inches. The toilet seat height can be varied to suit the preference of the user.
FAQs
1. Can you poop in a Saniflo toilet?
Yes. Saniflo toilets are just like other toilets so that you can poop without a problem. What you need to avoid is flushing anything else that is not human waste or toilet paper.
2. Do Saniflo toilet smell?
Saniflo toilets don't always smell, but sometimes they do. This is because the pump does not pump out everything, so there is about 2 inches of wastewater left at the bottom of the unit. A faulty macerator can also cause the toilet to smell.
3. How long do Saniflo toilets last?
Saniflo toilets will normally last for 10 to 15 years or even more. This is assuming the toilet is flushed 10 times per day. Toilets that are flushed less often will last longer than busy toilets.
4. How do you maintain a Saniflo toilet?
To prevent constant clogging due to scale build-up, you can use white vinegar or Saniflo's descaler. Disconnect the toilet from the power supply and pour about ½ gallon of the descaler or vinegar in the bowl. Wait for 2 hours or more. Connect back the power supply and flush the toilet.
5. Do you have to empty a Saniflo toilet?
No. The waste from the bowl flows to the macerator unit, where it is grinded into a slurry and then pumped out automatically.
---