7 Best Potty Training Seats – Comfortable and Safe.
Last Updated on September 10, 2023 by toilethaven
What is the Best Seat for Potty Training?
A toilet seat is often considered "The best seat in the house." This is the same principle that should guide you while buying a potty training seat for your toddler. Or would you want anything less for your little one?
As parents, we are always happy to see our babies tick off one milestone after another. Some landmarks are, however, exciting and challenging more than others. Others take even longer than others. Potty training is one such milestone.
Transitioning from diapers to potty chairs or, better still, potty training toilet seats is not easy. It takes what feels like forever, and sometimes, it can be a little frustrating, especially when your baby seems to take forever to learn the ropes.
A toddler toilet seat is attached to the top of a regular toilet to help toddlers safely and conveniently use the adult toilet. Some toddler toilet seats come attached to the main toilet seat to form a 2 in 1 seat.
The 7 Best Potty-Training Toilet Seats For Toddlers:
| Potty Seat | Remark |
| --- | --- |
| 1. BabyBjorn Toilet Trainer | Best overall |
| 2. 711TEK Potty Training Seat | Best with a ladder |
| 3. Mayfair 188SLOW 000 NextStep2 | Best 2 in 1 |
| 4. Gimars Portable Potty Training Seat | Best portable |
| 5. Munchkin Sturdy Potty Seat | Best budget |
| 6. Mangohood Potty Training Seat | Best design |
| 7. Summer Infant My Size Potty | Best combo |
Choosing a good toilet seat for your toddler can make potty training easier and more interesting, not to mention quicker. So, what is the best toilet seat for a toddler? Or rather, how do you tell the best toilet seat for a kid?
I have successfully helped several kids transition from diapers to toddler toilet seats, and I believe I know a thing or two about what works well and what doesn't.
While choosing a potty toilet seat for your baby, you should consider a few things. These include but are not limited to the following:
Quality
Comfort
Size
Aesthetics
Portability
Style
Color
I didn't put in price there since kids' toilet seats are inexpensive, and I wouldn't recommend that you go for the cheapest one. Your kid deserves the best.
1. BabyBjorn Toilet Trainer
BABYBJORN Toilet Trainer, White/Gray, 1 Count...
Comfortable and secure seating; ergonomic design helps your child sit correctly
Easy for the child to put on and remove on their own
The toilet trainer only needs to be adjusted once to fit your toilet seat
The BabyBjorn toddler toilet trainer is one of my favorite potty training seats. It is made of high-quality plastic, comfortable and sturdy.
The comfort and safety of your child while using a toilet, especially a regular toilet that is pretty high off the floor, should not be compromised. I like that the BabyBjorn toilet seat is ergonomically designed so that the baby's behind sits pretty and does not slip forward or backward.
This toilet seat will fit on any shape of toilet seat you have, whether round or elongated. It has an adjustable dial that you use to adjust to fit perfectly above your existing toilet seat. It will even fit European-styled toilet bowls, which are square or even D-shaped.
Parents often worry about the potential splash-back of urine on their baby or all around the toilet, especially when they have a baby boy. The BabyBjorn kid's toilet seat has an integrated splash guard that nicely channels the urine to the bowl.
If you are one of those parents who loathe bright colors, you will fall in love with this seat as it only comes in white with a thin strip of black, grey, or turquoise around where it sits on your existing seat. It is, therefore, not too dull but also not screaming.
The BabyBjorn toilet seat's simplicity is another thing that makes it stand out for me. Once you have adjusted it to fit the toilet, you can attach it to the toilet and let the child use it on their own if they are big enough.
If you are not keen on lifting your toddler up and down before and after using the toilet, get a matching BabyBjorn toilet stool. This will also raise your child's confidence and independence. The toilet stool is, however, sold separately from the seat.
A thin rubber hook at the back of the seat makes it easy for the kid to carry the seat around. After using the seat and rinsing it, the handle also makes it easy to hang the seat so that it dries up quickly.
One thing that might concern a few parents in this toilet seat is its lack of grab handles. If your kid is still tiny, you will need to hold on to them while doing their whole business. A step stool might help in weight distribution and stability for big kids.
With a weight of only 0.88 pounds, the BabyBjorn kid's toilet seat is also easily portable. Given all of its great features, it is not hard to see why this is my favorite toilet seat for toddlers.
2. 711TEK Potty Training Seat
711TEK Potty Training Seat Toddler Toilet Seat...
Is your baby having difficulty in using the adult toilet? Then it's time to start toilet training your toddler! Introducing our Potty Training Seat, which makes potty training for babies much simpler!
Let the potty training seat free you from the tyranny of diapers! This unique potty training seat features a ladder, so that your baby can safely climb up, grab the handle and turn around with ease!
Why this potty training seat?
The 7111TEK  toddler potty training seat is also one of my favorite kid's toilet seats, especially when you want to train your young one to start using their limbs early enough.
It is one of the best potty-training toilet seats with a ladder. The seat is available in white combined with either turquoise blue, deep blue, or pink, meaning it favors both boys and girls.
Toilets in the United States come in either standard height or comfort height. Standard-height toilets have a seat height of about 15 inches, while comfort-height toilets have a seat height of at least 17 inches.
To ensure that this seat will fit on whatever toilet you have, the ladder can be easily adjusted up or down for a precise fit. Another adjustable thing is the position of the step stool on the ladder.
Please practice with your young one to determine their best position placement.
For your kid's safety, you will be happy to know that the ladder's base grips firmly on the floor to avoid slippage. Each leg's base contains two non-slip pads, meaning the ladder will never shift in position.
Another feature to like in this kid's toilet seat is the grab handles on each side of the toilet. With the kid's leg safely on the step stool and their hands holding on to the grab handles, you are guaranteed your baby's safety.
The grab handles have a different color from the seat for easy visibility and also for aesthetic purposes.
What is even more interesting is that this seat also has a backrest, which is a different color, the same as the handles and step stool. Apart from providing extra comfort, it also provides additional support, preventing the baby from falling backward.
The 711TEK potty training seat has a removable U-shaped padded cushion that fits perfectly on a small groove to offer more comfort for your baby. The cushion is easy to clean and is warmer than sitting on bare cold plastic.
At the front of the seat, where the cushion does not cover, is a raised integrated splash guard. You, therefore, don't need to worry about your child splashing urine at the front of the toilet.
Whenever it is not in use, the 711TEK potty training seat can be folded in seconds for easier storage. It is, however, not as compact as other seats.
Although it can be used with round and elongated toilets, these seats are incompatible with square toilets. Another disadvantage is that cleaning the complete seat takes longer than simpler seats.
If you need a toilet that will let your child do everything on their own or with minimal input on your side, this is the toilet seat to go for. It weighs 3.2 pounds and has a weight limit of 165 pounds
3. Mayfair 188SLOW 000 NextStep2
MAYFAIR 1888SLOW 000 NextStep2 Toilet Seat with...
CLUTTER FREE: Built-In plastic toddler potty Seat secures magnetically in cover when not in use to keep the bathroom clean and organized
FITS ADULTS AND CHILDREN: Makes potty training fun, giving them independence by using the "big potty"
NO SLAMMING: Seat closes slowly and quietly with a tap to eliminate pinched fingers
This is a 2-in-1 toilet seat compromising an adult toilet seat and a toddler toilet seat attachment. It is a convenient option when you don't want to keep attaching and removing a toddler seat from your toilet now and then.
I like the practicality and simplicity of this seat, which makes it better than other models available. When the toddler seat is not in use, it attaches magnetically to the toilet adult seat so adults using the main seat won't need to lift it and hold it up. This also helps to keep the toilet tidy and germ-free.
As parents, we know that kids can be quite rough with things, and that's why this is a soft, closed toilet seat. When you need to bring the lid down or the whole seat plus lid, you gently tap it, and it slowly and quietly closes.
A slow/soft-close toilet seat gives you peace of mind as you don't have to bear the irritating sound of a slamming seat. You are also assured that even if the kid has their finger in the wrong place, the seat won't come down suddenly and pinch them.
One thing that makes Mayfair toilet seats stand tall amongst other toilet seats is their sturdiness. You often notice that after months of continued use, some toilet seats loosen and shift sideways. That is both uncomfortable and unsafe, especially when there are kids involved.
Mayfair toilet seats (which merged with Bemis Manufacturing) use their STA-TITE fastening system. In this system, the toilet seat bolt has a square head, which is inserted in a fitting square slot, and the bottom is tightened with a nut. As a result, the seat will never loosen and will forever remain sturdy.
Mayfair NextStep2 toilet seat also comes with a quick-release mechanism. The seat and its mounting mechanism are installed independently. This makes removing the seat during cleaning easy and reattaching it back.
Just remove the plastic covers at the back and slide the seat out. To put it back, slide it in the mounting hardware and put the plastic covers back.
One feature I love in this product is that the potty training seat can be detached from the main seat. This makes it easier to clean it separately and not the entire seat. Just hold it perpendicularly and lift it out.
The Mayfair NextStep2 toddler toilet seat is available for both round and elongated toilets, including Toto, Kohler, American Standard, and other models. The colors available are white, bone, and linen/biscuit.
One disadvantage of this toilet seat is that its colors are a bit dull as far as kids are concerned. It may not motivate some kids to use the "big toilet," especially if they have seen a fancy one elsewhere.
Another thing to remember is that it has no splash guard and grab handles. You will, therefore, need to be present every time your kid uses the toilet, especially when starting out. Adding a step stool would be a good idea.
Mayfair NextStep2 is made in the United States by Bemis Manufacturing. It weighs 7.9 pounds.
4. Gimars Portable Potty Training Seat
Gimars Upgrade Non-Slip Easily Removed Foldable...
No Falling by Upgrade Version 6 pcs Large Nonslip Silicone Stoppers - This training toilet seat for girls increases to 6 pcs Non Slip Stoppers, adding the contact area of friction between the toilet...
Easy Travel & Fits Most Standard Toilet by Un-Fold Large and Folding Small Design- This portable kids toilet seat covers folds up small of 7''L x 6''W x 2''H, easily bring to public restrooms and...
Secure Potty Training by Polypropylene Material and No Gap Design - The toilet training ring is made by polypropylene, safe material and is suitable for a little bit older baby about 3 years old and...
If you are constantly on the move alongside your toddler or looking forward to going on a trip, Gimars Non-Slip No Falling Travel Folding Portable Potty Training Seat will be worthwhile.
It is lightweight, easily foldable to a small size, safe, and comfortable for your young one. The colors available are pink, blue, and yellow.
The first time I saw an image of this seat, I thought it looked cheap and flimsy. I was utterly surprised when I had the chance to see and try out the real product. It is made of high-quality plastic feels and looks solid.
Gimar portable toddler training seat will fit on most toilets. Apart from the one you have at home, it will also fit on toiles in public restrooms, airports, and hotels. It comes with a small black bag to help you or your young one easily and discreetly carry it around to a public restroom.
For a foldable toilet seat, you might be worried about gaps in the seat, which can cause pinching injuries on your little one's behinds. The Gimar foldable potty training seat straightens up after being unfolded, leaving no gaps, and therefore this will not be an issue.
For a seat as tiny as this one, you might wonder how well it grips the existing seat or if it's a bit wobbly. Its underside is very rugged, which allows six non-slip silicone pads to be inserted. This increases its contact area with the seat, gripping it tightly, and will therefore not shift at all.
As we know, kids love colorful things, especially when cute little animals are involved. The Gimar potty training seat features a unique owl design. As you stand facing the toilet, you can see the owl's big eyes staring back at you, which I think is cool.
Being made of plastic, cleaning and drying this seat is a cinch! I would, however, advise you to carry enough wet wipes when traveling with it. This gives you the opportunity to wipe it clean after each use, keeping germs at bay.
Gimar's toilet seat design does not allow it to have a splash guard. It has a small gap at the front, so the pee cannot splash back at the kid but will probably splash at the front of the toilet. You, therefore, feel like this seat favors girls more than boys.
Its lack of grab bars also means that you will be holding your baby down the entire time they are doing their little business. For this reason, it is more suitable for a little bit older children who have a bit of balance on their own.
The manufacturer is pretty confident with this product, which is why you are given a 100% money-back guarantee if you buy it and do not like it.
Gimar foldable portable potty training seat has a weight limit of 62 pounds and only weighs 0.7 pounds. If you are traveling soon with your toddler, you need to grab this.
5. Munchkin Sturdy Potty Seat
Munchkin® Sturdy™ Potty Training Seat, Green
Portable toddler potty seat, perfect for potty training boys and girls
Contoured to hold child securely in place.Care & Cleaning: Spot or Wipe Clean
Nonskid edge ensures that seat doesn't move
The Munchkin sturdy potty training seat is simple, practical, and budget-friendly for toddlers. It comes in white with a green or grey strip around the edge where it sits on your existing toilet seat.
I like the overall design of this toilet. It has almost every feature you need in a baby's toilet seat. To start with, it has a contoured design in accordance with your child's little behind to comfortably support them so that they will not slide back and forth or even sideways.
I also like the design of its urine splash guard. Unlike in some seats where the splash guard is a solid block, this seat's guard is cup-shaped, meaning the kid's pee pressure will be reduced and not bounce back.
The splash guard is also high enough, which is an added advantage, especially for boys who tend to spill urine at the front of the toilet.
Munchkin potty training seat can be used with most round and elongated toilets without a problem. It grips tightly on your existing toilet seat, assuring you that your young one will not fall off the toilet.
The bottom of the seat features a non-skid edge, which is the part of the seat that comes into contact with the adult toilet seat. For this reason, the Munchkin Babies' toilet seat is regarded as one of the sturdiest toddler toilet seats.
For extra safety, while your little Munchkin is using the toilet, this toilet seat has a handle on each side for them to hold on to. You might, however, need to buy a step stool if your kid is big enough and doesn't want to lift them on and off the toilet every time.
Another cool feature I like in this seat is a slot where you can snap on a deodorizing disc. It is compatible with Arm & Hammer Nursery Fresheners. You will, therefore, teach your kid to get used to leaving the bathroom smelling fresh after use.
At the back of the toilet seat is a loop that you can use to hang the seat while not in use or after cleaning it. If you do not have a place where you can hang it in your bathroom, Munchkin also sells a hook that you can mount on the side of the toilet or on the wall. This makes it easy for your baby to unhook it, use it, and then hand it back after use.
The Munchkin sturdy potty seat is competitively priced, and given all its features, I believe it's worth every penny.
Weighing only 2.5 pounds, it is also easily portable. Its hard plastic construction makes it durable and very easy to clean.
6. Mangohood Potty Training Seat
On Sale
Potty Training Toilet Seat with Step Stool Ladder...
✅Universal Design - Fits standard height toilets which ranging in height from 14" to 16.5" from floor to toilet bowl seat. Does NOT fit high toilets which over 16.5" high, such as Comfort Height and...
✅Safe and Comfortable - Our potty trainer is made of high quality PP,can hold 75kg(165lb) mostly,sturdy enough when your toddler climbs up/down. padding on the potty seat makes it comfortable
✅Adjustable Footrest - Our potty training seat is suitable for 1-8 years old,as the footrest is adjustable(2 choice of height) so you can continue to use it when kids grow up
The Mangohood potty training toilet seat is a great product if you want your kids to start using the toilet. It is one of the best potty-training toilet seats with a ladder in the market.
This seat design is designed to be used by both boys and girls, and I really like the fact that it comes in multiple colors, which is what kids love. The colors available are blue and green, blue and purple, pink and lotus, pink and white, with the option of a PU cushioned seat.
The first thing that will be noticed about this potty seat is its solid construction. And that is important because it guarantees your kid's safety and the assurance that this is not some cheap product and will, therefore, last long.
Apart from the cushion where the kid sits, the rest of the seat is made of high-quality plastic. The advantage of that is that you end up with a high-quality, lightweight product such that a kid can lift it on and off the toilet.
Each potty seat has a two-color combination. What I like about this is that the colors are beautifully combined and not just thrown all over the place. The seats are really cute, which motivates the kids to look forward to using the toilet, making potty training easier.
One thing to note is that the Mangohood potty training toilet seat will fit on most standard toilets but not toilets with a square bowl. It is also designed to be used with toilets with a height of 14 to 16.5 inches from the floor to the top of the bowl.
This seat is recommended for kids of 1 to 8 years. Its footrest has two adjustable positions to accommodate children of different sizes. The footrest is rugged to increase grip between it and the kid's feet to prevent slipping.
To increase its sturdiness, the bottom of the seat (where it sits on your existing toilet seat) and the bottom of the ladder are fitted with anti-slip mats. It will, therefore, not slip during usage. Handles at the top of the ladder increase your kid's safety as they climb up and down the toilet as well as during usage.
The Mangohood potty training seat weighs 5 pounds and has a maximum weight limit of 165 pounds.
7. Summer Infant My Size Potty
Summer Infant My Size Potty, White - Realistic...
REALISTIC DESIGN – The Summer My Size Potty is the original My Size Potty training toilet, and features a realistic design that looks and feels just like an adult toilet, ensuring a comfortable and...
CONVENIENT TO USE – This potty training seat is easy for your little ones to use, and makes potty training mess-free. The built-in wipe compartment promotes healthy habits, too.
FLUSH SOUND – The handle in this training potty features a realistic flush sound to reward a job well done and encourage your little one!
This is one of my favorite potty-training products. It is not a potty training toilet seat per se but a toilet model for toddlers that imitates the adult toilet. Transitioning from this potty to the regular toilet will, therefore, be easy for a kid.
Just like a regular toilet, it has a bowl, a tank, a flush lever, and a toilet seat. There is a small compartment at the top of the tank for storing wipes, encouraging personal hygiene from a young age.
The potty is only available in white. I don't think another color would work with this one, as you want to make it as similar as possible to regular toilets, which are almost all white.
For your kid's comfort. The top of the toilet is not as high as a regular toilet so that they can use it with their fit firmly on the floor. It is also narrower than a standard toilet and will nicely accommodate their little behinds.
This potty will also teach your child how to flush a toilet. When pushed down, the handle is rightfully mounted on the tank and gives a realistic flush sound. Once the habit of washing this one becomes natural to your toilet, they will extend the same positive behavior while transitioning to a standard toilet.
The tank does not, however, release any water to the bowl. Instead, the waste falls on a removable bowl, which you empty, clean, and put back. The toilet seat has a splash guard to prevent pee from splashing over the toilet and onto the floor.
You also want your child to get in the habit of wiping themselves after using a toilet. That is why the top of the tank is fitted with a small compartment to store flushable wipes. The tank lid is also removable to help you store more items inside the tank.
The seat of this potty can be lifted up and easily brought down. This is especially a good feature if you are potty training a boy. It will teach him how to pee while standing and the importance of lifting the seat every time before peeing.
You will also notice that the bottom of the potty is wide, greatly enhancing its sturdiness. It is, therefore, highly unlikely that your kid will topple over and injure themselves.
The Summer Infant My Size Potty is, without a doubt, a great product that will help your child learn an important life skill. It is recommended for kids older than 18 months and has a maximum weight limit of 50 pounds.
Potty Seats Comparison Table
| Potty seat | Weight | Weight Capacity | Minimum age |
| --- | --- | --- | --- |
| 1. BabyBjorn Toilet Trainer | 0.88 pounds | All toddlers | 24 months |
| 2. 711TEK Potty Training Seat | 3.2 pounds | 165 pounds | 12 months |
| 3. Mayfair 188SLOW 000 NextStep2 | 7.8 pounds | Everyone | 12 months |
| 4. Gimars Portable Potty Training Seat | 0.7 pounds | 60 pounds | 36 months |
| 5. Munchkin Sturdy Potty Seat | 0.75 pounds | All toddlers | 12 months |
| 6. Mangohood Potty Training Seat | 5.2 pounds | 165 pounds | 12 months |
| 7. Summer Infant My Size Potty | 1 pound | 50 pounds | 18 months |
Potty Training Toilet Seats Buying Guide
There are hundreds of potty-training toilet seats in the market, and choosing the right one will not be easy. And that was the motivation behind writing this article.
As a parent, I hope you also know that what interests you and your child might not necessarily be what excites others. A toilet training seat that works wonderfully for someone else will not always work out for you.
I must also add that there are several factors to consider before buying a toddler's toilet seat. These factors include:
1. Safety
A child's safety while potty training on a standard toilet cannot be overemphasized. There are so many potential risks, some seen and some unseen.
The first and most obvious is the risk of falling off the toilet. The potty seat is not supposed to hook on the existing seat but rather sit and grip it tightly. Its underside should be fitted with non-slip pads to increase the friction between it and the adult seat.
If you decide to go with a potty toilet seat with a ladder, ensure that its base is also fitted with non-slip tabs to grip tightly on the floor. Make sure that the step stool is kept dry at all times, as water/pee can make it slippery and cause a fall.
Some seats come fitted with grab handles, increasing the child's safety while on the toilet. If the one you buy does not have handles, it will be important to make sure that you hold on to the child until they are done, especially if they are young.
It is advisable to buy a step stool for potty seats without a ladder, especially for toddlers who are using the toilet without a parent guiding them. Hoping on and off a standard toilet might be risky for them.
Although it does not always happen, some parents whose kids were using the toilet on their own have had to deal with a potty seat stuck on their baby's neck.
And if you thought that only boys are that curious, parents with girls have also had to deal with that as well. When your kid takes longer than usual in the bathroom, you should go in and check what they are up to.
2. Overall quality
When it comes to buying stuff for your child, you should never compromise on quality, especially on such an important item. You want to have peace of mind knowing that the potty seat is made of quality and safe material and that your young one is in no danger while using it.
This is one of the reasons why I do not advise that you go for the cheapest seat available. Kids love playing and rough handling their stuff. You don't want to keep buying the same product each and every day.
Also, check if the toilet seat can be returned. Most manufacturers who are confident in their products do not have a problem with a product being returned if it does not meet the customer's expectations.
3. Type of toilet
Potty training seats are not compatible with all toilets. Toilets come in a variety of bowl shapes and sizes. These include:
Elongated toilets
Round front toilets
Square toilets
D-shaped toilets
Most toilets in America have an elongated or round front bowl. D-shaped and squared toilets are mostly common in Europe, although some people in the US still have them.
If you have a D-shaped or square toilet, you will want to be extremely careful while buying a toilet seat for potty training your toddler, as there are some that will not fit.
Elongated toilets are with an oval-shaped bowl, while round toilets are with an almost circular bowl. If you need to measure, elongated toilets have an average bowl length of 18.5 inches, while round front toilets have an average bowl length of 16.5 inches.
To measure the length of a toilet bowl, measure the distance from the center of the two-seat mounting holes to the frontmost tip of the bowl.
Apart from the shape of the toilet bowl, the height of the bowl also matters. This is especially true for those buying a potty training seat with a ladder.
There are two types of toilets as far as toilet bowl height is concerned. These are standard height toilets and comfort height toilets.
Comfort height toilets have a minimum seat height of 17 inches, while standard height toilets have a seat height of less than 17 inches.
The good thing is that the height of potty training seats with ladders can be adjusted. While that is a good thing, they also have a limit on the extent to which they can be adjusted. Check the dimensions of the seat prior to making the purchase and compare it to your toilet bowl height.
If you have a tall toilet but are buying a potty training seat without a ladder, you should also consider buying a toilet stool for your young one.
4. Portability
If you have a toddler, chances are high that you will travel with them almost everywhere you go. Since you are not guaranteed to get a potty training seat everywhere you go, you want to make sure that you can easily travel with the one you already have.
Some toddler toilet seats are more portable than others. If you are constantly traveling, you will, without a doubt, need the most compact potty training seat and the lightest at the same time.
The thing about the most portable toilet seats for kids is that they don't always have all the features you might want, like a splash guard, handles, or even a step ladder. You might, therefore, be forced to compromise on them.
A better approach would be to buy two toilet seats, one for travel and another more robust one for use at home with every feature you might want.
5. Aesthetics
Babies love colorful things. Plain colors are considered dull, unlike for us adults, where everything in the bathroom is often always white.
Potty training is not easy; you should make it as fun as possible. Buying a cute toilet seat is one way to get there. Since by the time you are buying your baby a toilet seat, you have already spent a lot of time with them; you can easily tell what will excite them.
If your kid is big enough, like 2 years and above, they can help you choose what they want. This is also a great way of learning more about them.
6. Comfort
Your child's comfort while potty training is extremely critical. It is actually another way of accelerating the process. When a kid is comfortable, they become more confident.
A contoured/ergonomic potty seat is one way to make your young one's life on the toilet easier. Ergonomic seats are not only comfortable but also prevent slipping.
Another way of ensuring that your child is comfortable is by choosing a seat with a soft and quality cushion. Apart from just being comfortable, a cushion is warmer than plastic, which is what the frame of the seat would be made of.
You should also make sure that the kid's feet are resting on a solid surface. This is why potty seats with a ladder are becoming more popular, as they always have an adjustable step stool. A toilet stool is also a great option if your potty seat does not have a ladder.
Potty Chairs vs. Potty Seats
One dilemma parents face while starting to potty train their children is choosing the mode of potty training. So, between a potty seat and a potty chair, which is the best for potty training?
The truth of the matter is that both of these methods have their advantages and disadvantages. Let us look at the pros and cons of using potty seats vs. potty chairs.
Pros of Toilet Training Seats
Easier and faster transition to the standard toilet. Starting a child off on a potty seat rather than a potty chair gives them the confidence to get used to using a standard toilet, meaning they will transition from the potty seat to the actual toilet easily.
Saves bathroom space. Unlike a potty chair, you don't need an extra bathroom space to put a potty seat. Just place it on top of your existing seat, and after use, hang it somewhere.
You don't need to dump/empty it regularly. Since the potty seat is installed directly on top of the bowl, the waste falls inside the bowl and is flushed down; hence, no emptying is required.
They are easier and quick to clean
Most are very compact and portable
Cons of Toilet Training Seats
The overall height of the toilet is high relative to that of the kid, which might be somewhat intimidating for some. You will, therefore, be required to lift the kid up and down or buy a step stool at an additional cost.
Risk of splashing. Although most potty seats come with an integrated splash guard, some do not have it, and even those with them don't always work as intended.
Pros of Potty Chairs
Since potty chairs are shorter than standard toilets, kids are able to sit and stand on their own without the help of parents. The risk of falling off is also greatly reduced.
Kids will have both of their feet solidly on the ground, improving their overall safety and, hence, no need to buy a step stool.
Easy to customize to feature the kid's favorite colors and heroes/heroines.
Cons of Potty Chairs
They need to be emptied often.
Needs own space in the bathroom.
Most are not easily portable.
Final Words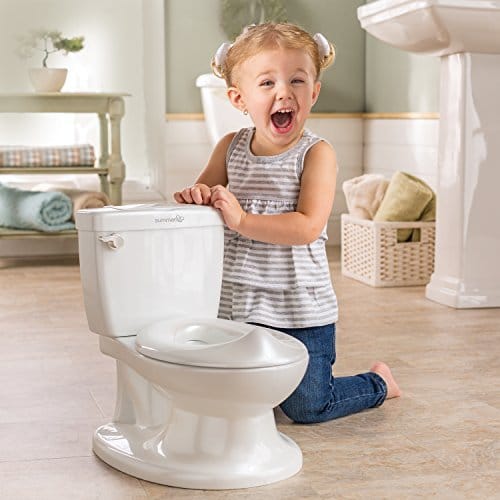 Potty training is not always easy. The first few days will be challenging as your baby learns to transition from diapers to a toilet. Buying a good potty training seat will help make the process fast and fun. The opposite is always true.
---