The 10 Best Recessed Toilet Paper Holders
Last Updated on May 18, 2022 by toilethaven
Recessed toilet paper holders are a type of toilet paper holders that are installed in the wall rather than on the wall. A hole is made in the bathroom wall where they are then screwed in studs or glued in.
They look sleek and stylish. Unlike wall-mounted toilet paper holders, recessed toilet paper holders give your bathroom a seamless design and they also go well with similar makes of other bathroom accessories like towels bars and hand towel rings.
A recessed toilet paper holder is usually 1.5 to 4 inches deep. Recessed toilet paper holders are usually spring-loaded so that you can easily replace a toilet paper roll.
There are very many toilet paper holders in the market today and especially recessed toilet paper holders. Picking a good one might not be easy. The purpose of this post is to therefore help you wade through the chaff and get what you want with easily.
I have spent hours reviewing different recessed toilet paper holders and also reading other customers' reviews t on the same, to help me come up with this ultimate post.
The holders reviewed here are not necessarily the cheapest but I can guarantee you that they are quality. Normally, when buying such a long term accessory like a toilet paper holder it's always advisable to not under budget.
And now the best recessed toilet paper holders are:
1.Ginger 4528/PN Columnar Recessed Toilet Paper Holder
This is probably the best toilet paper holder I have ever whether recessed or otherwise. It is made of solid brass with beautiful finishes and you can therefore be sure that it will never chip. The finishes available are polished chrome, polished nickel and satin nickel.
This toilet paper holder comes from Ginger's Columnar collection which also include a double pivoting towel holder, toiletry shelf with hand towel bar, arched robe hook, towel ring and bath grab bar. These items are all made from the same material as the toilet holder.
The only downside to this holder is that it is quite pricey. It may therefore not be preferred by the vast majority of people
All the necessary mounting hardware is provided. The toilet holder has a Ginger lifetime warranty.
2. Design House Millbridge Recessed Toilet Paper Holder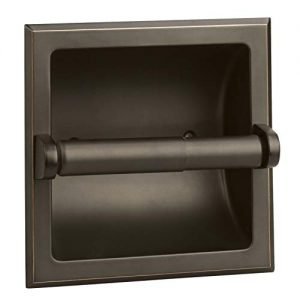 This is a well-made and inexpensive recessed toilet paper holder. It is made constructed from zinc and aluminum with a plastic bar. The finishes available are polished chrome, satin nickel and oil-rubbed bronze.
If you would like to match this item with other bathroom items, you can choose to go with the towel bar, robe hook and towel ring also from Design House. The towel bar is available in 18, 24 and 30 inch.
It comes with a one-year warranty.
3. Delta-Faucet 45072
Delta Faucet have a made a name for themselves by the construction of high quality home appliances and this one is not an exception. It is made from solid steel with a beautiful finish of satin nickel. It is competitively priced with the screws and mounting template also included.
Satin nickel is not very different from polished nickel so if you have your other bathroom made from brushed nickel this toilet paper holder will still blend in very well. It holds both regular-sized and jumbo toilet paper rolls.
4. Designers Impressions Recessed Toilet Paper Holder
This is a high-quality toilet paper holder that is well-priced too. It is beautifully designed and will complement any bathroom décor. The finishes available are black, polished chrome, satin nickel and oil-rubbed bronze.
It is made from all metal (aluminum) and as a result it is very sturdy. Screws and mounting bracket are included in the shipment.
Designers Impression believe in their product and will therefore give you a 15-year warranty on the finish.
5. Rocky Mountain Goods Recessed Toilet Paper Holder
This Rocky Mountain Goods recessed toilet paper holder is heavy-duty, sturdy and well-made too, with a premium finish. The finishes available are Venetian bronze, brushed nickel and chrome.
It comes with the necessary mounting hardware. One thing you might notice is that the Venetian bronze toilet paper holder is a little darker than you might expect. It is not a problem for me but I know it could be for some people.
Other than that this is a great product. It has a lifetime warranty.
6. Moen 575 Donner Collection Recessed Paper Holder
Moen is another brand that never disappoints. I have seen and used most of their products and I can assure you they are very well crafted and also last long. This is another of their great products.
As a matter of fact, I would have put this product a little higher on the list were it not for the fact that you have to buy the mounting bracket separately. I find that inconveniencing and I would rather they have everything together even if it means adjusting the price upwards.
All the same it is great product which is backed by a lifetime warranty.
7. Franklin Brass 9097SN Recessed Paper Holder
The Franklin Brass 9097SN is a solid metal recessed toilet paper holder that is both attractive and well designed. It is available in polished chrome and satin nickel finishes.
This holder comes with the mounting screw but not the rear clamp/bracket. Be sure to therefore buy the bracket separately.
If you use mega toilet rolls then you will like this holder because they will fit in perfectly well. The spring-loaded bar is however a bit strong and will need extra effort to release and change toilet paper rolls. It's not much of a bother though.
8. Spiretro Wall-Mount Recessed Toilet Paper Holder
This toilet paper holder is a little different from the others. It is made from wood, wall-mounted with a recessed compartment/shelf for toilet paper storage and another for dispensing.
The major problem I have with recessed toilet paper holders is that they do not have a way of storing extra rolls unlike freestanding toilet paper holders. This holder takes care of that problem and you will therefore never find yourself in a "crisis".
The disadvantage of this holder is that it is not ideal for people with really small bathrooms since it protrudes from the bathroom wall.
If you however have a bit of space then by all means go for it. The rustic torch wood just looks amazing.
9. Top Taste Recessed Toilet Paper Holder
The Top Taste recessed toilet paper holder is made from stainless steel and as result will never rust/corrode. It is available in chrome, brushed nickel and matte black.
It is pretty easy to install and comes with all the screws and mounting bracket. The matte black and brushed nickel finishes looks great but of course you choice should be determined by your overall bathroom décor/style.
10. Mintcraft 776H-07-SOU Recessed Toilet Paper Holder
The Mintcraft recessed toilet paper holder is available in Venetian bronze and brushed nickel. I love that it is made of a heavy-duty metal which makes it really study once you install it.
I have only 2 problems with this product:
The screws are longer than usual and you might need to cut them.
It is shallow and therefore does not fit the large toilet paper rolls. You might force it but you it will be really hard to remove the initial layers of the rolls.
Other than for the above concerns this toilet paper holder is well-made, looks and works as advertised.
Conclusion
Recessed toilet paper holders are a great way of saving bathroom space. It may not look like much but sometimes an inch can make a very big difference. As we have seen, it is also important to try as much as possible to match your toilet paper holder with other bathroom items to obtain a uniform style.
I am confident that whichever of the 10 toilet paper holders reviewed in this article you settle for they will be worth your while.
---