The 10 Best Tankless Toilets of 2020 – Features & Specs
What is the best tankless toilet to buy? Are tankless toilets worth the money? How does a tankless toilet work? What are the pros and cons of a tankless toilet? This are some of the questions would-be buyers of tankless toilets often ask themselves before buying one
A tankless toilet is a flush toilet that uses water under high pressure straight from the supply line to flush a toilet. The water pressure is sufficient to cause a siphon action and therefore negates the need for a tank. Toilet tanks are used in some toilets because the water pressure is not enough to flush.
Tankless Toilet vs Tank Toilet
In order to flush a toilet, a lot of water has to be released in a short time into the toilet bowl. This is where the toilet tank becomes useful. The sudden release of a gallon or more of water within seconds, coupled with the natural force of gravity is enough to initiate the siphoning action at the toilet trap
Tankless toilets therefore compensate for their lack of tanks by pumping the bowl with water under pressure to trigger the siphoning action. A tankless toilet will need more than 20 psi to work effectively. Urinals need less pressure than toilets since their waste is in liquid form
So, of all the tankless toilets in the market which are the best?
The 10 best tankless toilets in the market are:
Toto Neorest 700H Toilet
Kohler Veil Toilet
Saniflo Sanicompact Self-Contained Toilet
Toto Neorest 550H Toilet
Bio Bidet Fully Integrated Bidet Toilet
Dyconn Faucet Niara Tankless Toilet
Kohler Karing Skirted Toilet
Toto G400 Toilet
Woodbridge  Toilet
Ove Decors Tankless Smart Toilet
1. Toto MS992CUMFG#01 Neorest 700H
Features and Specifications
Bidet seat with rear cleanse, front cleanse, oscillating and pulsating spray
Auto opening and closing lid
Heated seat with temperature control
Air deodorizer
Nightlight
Skirted design with concealed trapway
CEFIONTECT glaze
0.8/1 GPF dual flush
Elongated toilet
Hands-free automatic flush
15.75 in. bowl height
12 in. rough-in
124 pounds
WaterSense certified
Voltage: 120 volts
Wattage: 1413 watts
Siphon jet flushing
Cotton white in color
Floor mounted
Vitreous china material
Mounting bolts and wax ring not included
Toilet dimensions: 32.5 x 15.5 x 21.5 inches
3 years limited warranty
Review
The Toto Neorest 700 H is probably the best tankless toilet anyone could ever buy. There is nothing in this toilet that will not leave you breathless. The surest thing about this toilet is that you will take longer in the bathroom while using it
Toto combined the 0.8/1 GPF dual functionality with their revolutionary Ewater+ disinfection technology in the designing of this toilet. This technology uses the natural properties of normal tap water to turn it into a harmless acidic solution which acts like normal bleach. This eliminates the use of harsh chemicals while cleaning
The culmination of comfort and luxury greets you the moment you enter the bathroom. If it is during the night, the blue LED nightlight seat illuminates the bowl and you have the option of not switching the bright bathroom lights especially if you are straight from bed.
And no you don't need to open or close the toilet lid. It will notice your presence and automatically open, ushering you to the heated toilet seat. Cold winters will always find you warm on the throne
You are going to be spoilt for choice between the rear, front, soft, oscillating and pulsating cleanse options that are all on offer. You can even go ahead and adjust the warmth and the volume of the spray to suit personal preference. Alternatively, you can go ahead and choose between one of the user memory to automatically give you your daily "dose"
A stream of warm air will then be blown to enhance your comfort and relaxation. An air deodorizer that will leave the bathroom feeling fresh all day will afterwards be released
The hands-free experience extends to the automatic flushing capability. Toto's Tornado flush siphon jet flushing system does the job in one round utilizing minimal water. This toilet will fit perfectly even in places with strict laws like California, hence its WaterSense certification
Pros
Hands-free everything
Heated toilet seat
Nightlight
Comfort height
Cons
2. Kohler K-5401-PA-0 Veil Toilet
Features and Specifications
Comfort height toilet
Integrated bidet
Stainless steel wand
Adjustable water pressure and temperature
0.8/1.28 GPF
Heated toilet seat
Elongated toilet
86 pounds
White
Floor mounted
Nightlight
Hands free opening and closing
Automatic flush
Touchscreen remote
Supplied with seat, supply stop valve, braided inlet hose
Toilet Dimensions: 26.1 x 17.2 x 21 inches
Review
The Kohler Veil is a sleek and beautiful toilet. As hard as it is to use to use beauty and toilet in the same sentence, this is what the Veil is.
Its curvaceous body combines up so nicely with a comfort height with the top of the seat being more than 17 inch from the floor. It is therefore very easy to sit and stand from this toilet for old and tall people.
For maximum comfort, the toilet bowl is elongated thereby offering a bigger surface area for the user to sit on. Cold toilet seats are a thing of the past as long as this toilet is concerned
The heated toilet seat ensures your body is kept warm for the entire time you are using this toilet. And you don't need to touch the seat cover to open or close it. You will only need to adjust the distance you are comfortable with and it will automatically close or open
Once your business is done, 78 fine nozzles with air-infused water will gently cleanse you. Ladies will absolutely fall in love with this front cleansing feature.
As if that is not enough, a pulsating wash will cleanse and massage you. It is also comes with a spiral cleanse that washes a broad area.
Warm air will be blown to keep your body dry and comfortable. You bathroom will also be ever fresh due to an automatic release of a deodorant
Hygiene-wise this toilet is also top notch. Sterilized water disinfects the nozzle after every wash. An automatic UV light will also sanitize the nozzle after every 24 hours. If therefore you are sharing this facility, you can be guaranteed of top hygiene standards
Pros
Water efficient
Beautiful design
Comfort height
Cons
3. Saniflo 023 Sanicompact Self-Contained Toilet
Features and Specifications
Elongated toilet
White
Ideal for tight spots
1/1.28 gallon per flush
Can be installed up to 9 feet below the sewer line
Can be installed up to 120 feet away from a soil track
Soft close toilet seat included
12 in. rough-in
Floor mounted
Mounting bolts included
Wax ring not included
Vitreous china material
62.2 pounds
18.25 in. bowl height
Floor mounted
62.2 pounds
Toilet dimensions: 18.2 x 14.5 x 15.8 inches
2 years warranty
Review
The Saniflo Sanicompact Self-Contained Tankless Toilet is a small but very effective toilet. It one of the most ideal toilets for bathrooms placed in tight spots and far from the sewer line. Their flushing system is designed to defy gravity
Most toilets flushing system hugely depend on gravity to activate the syphoning of human waste from the toilet bowl. The Sanicompact depends on pressure
It can be installed 9 feet below the sewer and up to 120 feet away from a soil track. If you have a tiny bathroom in your basement that needs a small but a modern toilet look no further.
It comes with a dual-flush functionality that gives you the option of either using 1.28 or 1 gallon per flush. While at it gives you the option of connecting a sink. The gray water from the sink will be incorporated in the toilet system and pumped out too
The Sanicompact was designed to also offer comfort to its users in more than one way. It has a soft close toilet seat to eliminate the disgusting sound of slamming toilets. The toilet seat is also elongated to offer more surface area to sit. It boasts of an 18.75 inch comfort height feature from the ground to the top of the seat. People with impaired mobility or generally tall people will find this toilet very helpful in that regard.
Its self-venting system means that this toilet does not need a vent pipe. You will however be needed to vent other appliances in your house in line with your local authority codes
Pros
Well priced
Ideal for tight spots
Comfort height
Cons
Need a professional to install
Hands-free features lacking
Toilet seat not heated
4. TOTO MS982CUMG#01 Neorest 550H
Features and Specifications
Cyclone siphon jet flushing system
Front, rear and soft washlet cleansing
Ewater+ disinfection system
Adjustable heated seat
Remote control
Automatic lid opening and closing
CEFIONTECT glaze
Adjustable spray position
Oscillating and pulsating comfort washing
A built in air purifying system
Skirted design
Minimum 7 psi flowing pressure
Maximum 80 psi static pressure
SanaGloss ceramic glaze
Automatic flushing
Elongated toilet
86 pounds
Vitreous china material
120 volts
12 inch rough in
Elongated toilet
White/Sedona beige colors
1 GPF
Floor mounted
Toilet Dimensions: 27.8 x 15.3 x 21.5 inches
3 years limited warranty
Review
The new Toto Neorest 550H comes with a Ewater+ disinfection system. After every flush, the Toto's Ewater+ mists the bowl with electrolyzed water. This is the regular water found in tap water. A wet bowl aids in the elimination of waster 80% better than a dry bowl
This new technology also helps in the avoidance of using harsh chemicals while cleaning the toilet. Common chemicals in tap water are transformed into hypochlorous acid. This has the same properties as a household bleach but kind on the surface of the toilet
The CEFIONTECT glaze makes it very easy to clean and maintain the natural glow of the toilet. It also makes it impossible for molds to grow or thrive.
The Neorest 550 is a hands-free automatic toilet in so many ways. As you approach the toilet, the lid will automatically open and as soon as you are finished it will automatically close
The elongated toilet seat has adjustable temperature settings for maximum comfort. The oscillating and pulsating washer leaves you thoroughly cleaned followed by a warm air drying experience
The automatic flush mechanism will notice when you are done so you will not need to use your hands. All those features can be adjusted and controlled by a wireless remote that is included when you buy this toilet
Its skirted design ensures there are no nooks and crannies. Cleaning this toilet is therefore quick and easy. This combined with other attributes ensures your hygiene is always top notch
The standard height may however be a little of an issue for people with mobility problems, the old and generally tall people. With the emergence of comfort height toilets maybe this is an area Toto should look into
Pros
Ewater+ disinfection system
1 gallons per flush – Water efficient
CEFIONTECT glaze
Cons
Standard height. Not comfort height
No nightlight
5. Bio Bidet IB835 Fully Integrated Bidet Toilet
Features and Specifications
Dual nozzle
Auto flush
Pulsating/massage
Heated seat
Warm air dry
Deodorizer
Auto wash
Digital body sensor
Wireless remote
Elongated toilet
White in color
Toilet dimensions: 27.7 x 15.8 x 21.1 inches
Comfort height
Vitreous china bidets
110 volts
Floor mounted
40 pounds
1.6 GPF
330 pounds maximum weight capacity
12 inch rough in
3 year limited warranty
Review
For anyone looking to buy a toilet and a bidet but out of space for both fixtures this is their solution. It is an amazingly integrated product and people with small bathrooms will find it especially a much needed welcome to their lives
The Bio Bidet spots a double nozzle which provides a posterior cleanse for the gents and a feminine cleanse for the ladies. The nozzle washes over a wide area ensuring your hygiene is not compromised
The wireless remote gives you the liberty adjust water temperature and pressure easily. The end result is an oscillating and pulsating wash that massages you leaving your relaxed
Toilet paper will be a thing of the past in as far as this toilet is concerned. After getting totally washed, warm air will dry you out completely.
The toilet seat of the Bio Bidet Tankless toilet is heated. Cold bathroom trips will hence be forgotten. For a bigger area to sit on, the seat is elongated and at a chair-level. If you are a tall person, disabled or old you will enjoy this toilet more. Heavy folks have also been thought of! The maximum capacity of this toilet is 330 pounds.
Unlike many smart and tankless toilets, this toilets is rather easy to install. You actually don't need a plumber to help you install. If you can get a Philips screwdriver, drill with 3/8 inch bit and an adjustable wrench you will be home and dry
New buyers who buy this toilet and have not yet learnt how to use it find the customer care at Bio Bidet very helpful. Upgrading from a normal toilet to a smart toilet can take some time to adjust and the team at Bio Bidet understand this. They therefore take their time to walk you through all that you need to know
Pros
Comfort height
Auto flush
Comfort height
Easy to install
Cons
6. Dyconn Faucet Niara Tankless Toilet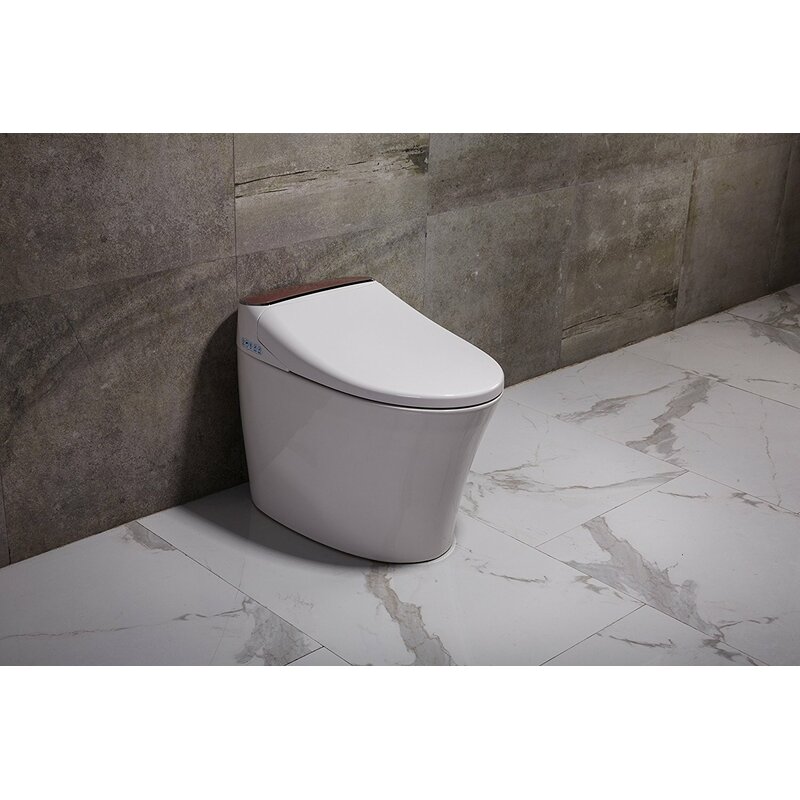 Features and Specifications
Elongated tankless toilet with built in smart bidet
1.18 GPF
Soft closing lid
LED nightlight
Automated seat cover with radar sensing
Kick-knob to open lid and to flush
Made of vitreous china
Wireless remote
Auto flush
Auto open/close toilet seat and lid
Front and rear cleanse
Toilet dimensions: 16.3 x 26.9 x 20.9 inches
93 pounds
Water pressure control
Water temperature control
Tornado turbulent flushing
Floor mounted
12 in rough-in
1 year warranty
Review
The Niara tankless toilet is a modern and fully automated toilet. It has integrated the functions of a toilet and a bidet into one amazing product.
By the press of a button, you get to choose the water pressure, nozzle position as well as the temperature of the water and the toilet seat. You are therefore assured of a spa-like treatment for the entire duration you are on the toilet.
The kick button at the bottom of the toilet ensures a completely hands-free operation. You just have to kick it and the lid will open. When you are done using the toilet you will again give it a kick to close the lid and flush. Don't worry about the kicking. It's a gentle kick using your leg. Street fight kicking skills are not the requirement
In the event you want to use the facility at 2 AM in the morning or on a cold winter morning, you will not need to worry about freezing on the toilet. An LED nightlight heated toilet seat will be there waiting for you. The 93, 98 and 104 degrees temperature settings are available for you to choose the most convenient one
During flushing, water is released from two sides of the bowl at very high pressure resulting into a very turbulent and powerful flush. The Niara uses only 1.18 gallons per flush. It initially releases 0.7 gallons to create a vortex to sort of scrub the bowl then release the remaining 0.48 gallons out of a small jet at the bottom to rinse and clear anything that might have been left behind
Pros
Kick-button for lid opening/closing
Heated seat and nightlight
Powerful flushing
Cons
7. KOHLER K-4026-0 Karing Skirted Tankless Toilet
Features and Specification
Elongated toilet
1.28 GPF
Self-cleaning
Hand held or wall mounted wireless remote
Bidet toilet
Hands-free opening and closing of lid
LED nightlight
12 inch rough-in
20 psi pressure
White in color
Supply line included
Carbon filter to neutralize odors for up to one year
Heated seat
Warm air dryer
Floor mounted
Vitreous china material
Toilet dimensions: 20.38 x 16.69 x 26.50 inches
110 pounds
1 year limited warranty
Review
For most people, going to the toilet poses several unpleasant experiences. Bending over to lift the toilet lid and flipping it over back after you are done poses several hygiene red flags
The Kohler Karing comes in to solve this problem. The hands-free opening and closing of the toilet lid ensures a completely automated process. You will also not be required to push a button or trip to flush. This intelligent toilet will do it for you
If you are a couple sharing this toilet, you can adjust and save settings for the heated seat, water temperature and air dryer. A hand held or wall mounted remote comes in handy if you have guests who will want to use their own settings for maximum comfort and relaxation
Kohler Karing's toilet seat apart from being elongated comes with different temperature setting for its heated functionality. During the night it combines the comfort of a heated and elongated seat with an LED nightlight feature.
The design of this tankless tank is such that it has no corners, nooks or crannies. It is a curvaceous and smooth product which makes cleaning it a joy. Its shape also enables it to reflect light and hence glow!
Pros
Nightlight/heated seat
Hands-free operation
Cons
Power save mood has the remote going dark
At times you have to "reboot" the toilet to have it flush
8. Toto MS920CEMFG#01 G400 Tankless Toilet
Features and Specifications
Washlet bidet seat
Front and rear warm water cleanse
Five adjustable pressure and temperature settings
CEFIONTECT glaze
1.28/0.98 GPF dual flush
Cotton white
Auto open and close toilet and lid
Heated seat
Warm air dryer
Air deodorizer
Comfort height
102 ponds
Ceramic material
Skirted design
12 inch rough-in
Floor mounted
Elongated toilet bowl
3D Tornado flush
Minimum 7.25 water pressure
Toilet Dimensions: 28.6 x 11.6 x 26.9 inches
3 years limited warrant
Review
This is another great product from Toto. A dual flush tankless toilet integrated with a bidet washlet bidet seat while utilizing the 3D tornado flushing technology
Its surface is coated with the CEFIONTECT glaze which combines really well with the premist function of this toilet. This combination leaves the toilet bowl with a most surface and therefore inhibiting waste from adhering on it.
For your added comfort, the lid will automatically open and close every time you use this toilet. After doing your usual on the toilet, a self-cleansing wand will appear to thoroughly wash your essential parts thoroughly
You will be spoilt for choice as you choose the favorite cleanse that suits your body. From a front cleanse, soft rear cleanse, rear cleanse, oscillating and pulsating cleanse, you are guaranteed to leave the bathroom feeling absolutely relaxed.
The toilet seat is elongated and heated for extra comfort especially on cold days and nights. And that is not all. The toilet seat is at a comfort height hence sitting and standing from this toilet will be very easy
Pros
Automatic opening/closing of the toilet lid
Washlet works amazingly well
Comfort height
Cons
The dryer is not as powerful as would be needed
9. WOODBRIDGE B-0960S B0960S Tankless Toilet
Features and Specifications
Smart bidet seat toilet
Posterior, feminine and pulsating wash
Adjustable water pressure
Automatic Flush
Auto open and close lid
Adjustable water temperature
Warm air dryer
Heated seat
Air deodorizer
Sleek, low profile skirted toilet
Elongated toilet bowl
Heated toilet seat
White in color
151 pounds
12 inch rough-in
1.28 GPF
Toilet Dimensions
2 years limited warranty
Review
This Woodbridge tankless toilet is a sleek, low profile and skirted. The smart bidet toilet seat is seamlessly integrated with the dual flush toilet functionality
Upon your entrance to the bathroom, your hands will not need to touch anything on the toilet apart from the wireless remote. The toilet lid will automatically open for you, allow you to do your business then automatically close and flush
Hygiene-wise, the posterior wash, feminine wash, oscillating and pulsating wash followed by a warm air drying experience will leave you thorough cleansed. What's more is that you can adjust the water temperature and pressure to you most convenient settings
The toilet seat stands at a comfort height making it easy to sit and stand from this toilet. Combine that with an elongated, heated and LED nightlight and your bathroom trips will be never be the same again
Pros
Great price
Sleek design
Heated/elongated/nightlight seat
Cons
Water level in the toilet bowl is sometimes low
10. Ove Decors Tankless Smart Toilet
Features and Specifications
1.28 GPF
Warm water and air wash
Adjustable water temperature and pressure
Single flush system
Heated seat
Remote control
White in color
Vitreous china material
120 volts
800g MaP score
Soft close toilet seat
Elongated toilet bowl
88 pounds
Floor mounted
12 inch rough-in
Toilet dimensions: 31.3 x 16.8 x 23.8 inches
Limited warranty
Review
Ove Decors is not as big brand as the others but it will do some serious justice to your bathroom. It has smart bidet toilet seat incorporated with a powerful flush unit scoring a MaP of 800g
The toilet seat is elongated, heated and boasts of the soft close functionality. Its bidet seat will wash and massage your essential parts and later dry you with warm air. The water temperature and pressures as well as warm air can be adjusted with a wireless remote that comes with this unit
The one thing that people complain about this toilet is about the installations instructions not being clear. You get a feeling they were written by someone who is not a native English-speaking individual. You will therefore spend good time trying to get you way through it
Other than the above concern, the toilet works as advertised. It moves big loads fairly easy and automatically
Pros
Power flushing
Heated seat
Hands-free operations
Cons
Installation instructions not clear
Tankless Toilet Buying Guide
Just like many things in life, all tankless toilets are not made equal. Some will perform better than others while others will look better than others. Some will even last longer than others. Without a doubt, some will cost more than others.
Factors to Consider Before Buying a Tankless Toilet
Cost
Color
Power reliability
Comfort
Space
Rough-in
Hands-free operations
Water efficiency
Legal requirement
1. Cost
Tankless toilets generally cost more than tank toilets but even amongst themselves, some cost way more than others. Before settling down to one choice over the others you really must consider how much it costs and how much you are willing to spend
2. Color
Let's face it, most toilets are white. White works better especially where hygiene is something you cannot overlook. While we don't discourage people from venturing out of white, as far as tankless toilets are concerned you will never go wrong with white
3. Power Reliability
Tankless toilets depend on electricity to pump water under pressure to your toilet. If you leave in an area prone to chronic power outages you might not enjoy the tankless toilets experience that much
4. Comfort
Comfort is a big talking point in the tankless toilets world. From heated toilet seats, elongated bowls and seats, comfort height seats, nightlight, automatic flush to the smart bidet seats. This is the primary reason why tankless toilets are expensive
Although some are less comfortable than others, tankless toilets are generally comfortable and you will be spoilt for choice in as far us comfort is concerned
5. Space
Tankless toilets looks great whether you have a big bathroom or a tiny bathroom. Having said that, if you have a small bathroom where every inch counts please take your time to consider all the toilets and their dimensions
6. The Rough-in Distance
The rough-in is the distance between the rear wall of a toilet and the center of the toilet drain pipe. The standard rough-in is 12 inches. Other rough-ins like 10 and 14 also exist. Know your toilet rough in before buying your tankless toilet of choice
7. Hands-free operation
The best tankless toilet should give you a complete hands-free experience. From the time you enter the bathroom to the time you leave, you should not use your hands anywhere. This can also be a great boost for disabled people
8. Water efficiency
Some toilets use up to 3 or more gallons per flush. Other use a meagre 0.8 gallons per flush. The difference in the amount of water saved is huge.
Make an effort to buy a toilet that spends less water which will be good for your pocket and also for the environment
9. Legal requirements
You may like a certain tankless toilets but you might be unable to buy it in certain areas due to legal requirements
For instance, any toilets used in California must not use more than 1.28 gallons per each flush. Also, toilets to be installed in public areas must comply with the Americans with Disability act (ADA) which have a requirement of comfort height (17-19 inches)
Tankless Toilets Vs Wall-Hung Toilets
Wall-hung toilets as their name suggests are toilets which are mounted on the toilet of the bathroom. Unlike tankless toilets, wall-hung toilets actually have tanks only that they are either concealed in the wall or are located outside the bathroom wall
Tankless Toilets Vs Tank Toilets Flushing System
In a tank toilet, when you flush the water leaves the tank into the bowl through a flush valve. Tankless toilets use a flushometer. A flushometer is a device that releases a metered amount of water each time into the toilet bowl. They are mostly found in urinals and public toilets. Modern tankless toilets for residential applications have automatic flushing systems
The Pros and Cons of Tankless Toilets
The Pros
What are the advantages of tankless toilets over tank toilets? Let us have a look
1. Space Efficient
A tankless toilet can make an otherwise small bathroom look big. The absence of the tank make sure they take less space and hence the bathroom does not look stuffy
2. Sleek design
Tankless toilets are sleek and beautiful. Having it in your home just leaves your guests in awe. Apart from that, they help to complement your entire bathroom décor
3. Fast flushing
With a tank toilet, you have to wait for it to fill up after every flush. A tankless toilet is ever ready to be used. And you never have to flush twice
4. No Leaks
You will hardly hear an owner of a tankless toilet complaining of a leaking toilet. The scenario is different though for people with a tank toilets. If it is not the flapper, it's the fill valve or the tank to bowl gasket
5. Easy to Clean
The smooth surface coupled with no crevices means that washing these toilets is so easy. They also stay clean for longer
The Cons
What are the disadvantages of tankless toilets over tank toilets?
1. They are Expensive
Tankless toilets are way expensive than tank toilets. The reason for this is due to all the extra components that they come. Comfort and luxury in life generally costs money
2. They are Noisy
Due to the forceful power of the pressurized water, tankless toilets can be noisier compared to tank toilets
Conclusion
From simple urinals and public toilets to the modern toilets that they have become, tankless toilets are without a doubt the toilets of the future. It might take longer to completely edge out tank toilets but it will get there. Do your due diligence and buy yourself the best tankless toilet and start living the modern way.
---
---